The one with the green squeeze bottles
Graza — the whimsical, high-quality olive oil brand out to make sure you never purchase overpriced, low-quality cooking oil ever again. Launched right at the start of 2022, Graza's duo of highly recognizable green squeeze bottles instantly took the internet by storm . The packaging is irresistible; they sold out multiple times in those first months — but it's the social media and influencer marketing strategy that gave fuel to the fire. Name your favorite cooking influencer — they've almost certainly been uploading videos to Instagram with that telltale green squeeze bottle in the shot. Offline, the brand is stocked in every cute pantry-goods shop from Brooklyn to Seattle, and in every Whole Foods location in America. There's no question Graza's viral turn would not have come so fast and thorough without the work of Kendall Dickieson, who has been the brand's Social Media and Influencer Consultant since late 2021. She's the reason Molly Baz, just to name an influencer, first got her hands on the oil and started featuring it in her videos. Of course, it's the quality of the oil itself that's kept the momentum going. Since those early days, Graza has built up a marketing team that, besides Kendall, now includes a Head of Marketing, a Senior Marketing Manager, a full-time content producer, a Community Manager, and a Marketing Coordinator. They all work together on Air to keep the content flowing.
Switching from Dropbox and Google Drive to Air
Kendall has worked as a consultant for a number of CPG brands; she first discovered Air while helping
Kevin Lee
, CEO of better-for-you ramen brand immi, launch their social and influencer program. When Graza's founders were preparing to launch, they brought her in to do the same thing.
As many just-started organizations do, they were managing all their content on a mix of Dropbox and
Google Drive
.
As launch neared and the volume of content ballooned,
juggling Dropbox and Drive became untenable
, especially for a brand so reliant on visual assets. Just a month after launch, as user-generated content was pouring in and Kendall's influencer marketing work continued at pace, she made the switch.
I literally took everything that was in our Drive, everything that was in the Dropbox – though our Ops team still uses Dropbox for exchanging documents with retailers – and imported it into Air. Any content, any photo, any video, any PDF, everything we had, it was just a one-click import, which saved me so much time. The biggest difference between Air and Dropbox, for me, is Air fits in the creative flow. Dropbox doesn't; any time I've had to send a Dropbox link it feels outdated, like using Internet Explorer when everyone had switched to Chrome. The other big difference is Air's tagging system and how visible assets and their tags are. In Drive and Dropbox, it's so tough to figure out tags, and even when you do, they're not visible at a glance like they are in Air.
Creating an organized system and taxonomy in Air
Whenever someone imports in bulk from Google Drive, Dropbox, or Box to Air, the original folder structure remains intact; those folders are just converted to Air boards. Of course, boards work differently from folders, so some re-organizing usually helps to maximize Air's efficiencies. Here's how Kendall laid out Graza's board structure in Air:
Our board system is segmented essentially how you'd assume any brand might segment it. We have a
'Brand Assets'
board, which is split into internal and external-facing boards. When we want to
share those assets with a brand partner
– out logos, team photos, our latest product shots – it's just one click to get that share link. When we need to
collect assets from other brands or agencies
, we have a board that acts as an inbox. We have a
content collection form
link we just send out so they can upload it. There's never any 'hey you forgot to download this from your Gmail account, so you're going to have to hunt through thousands of emails.
An easy approval process for user-generated content
It's not just seeded influencers who've taken to Instagram and TikTok en masse to show off their shiny green squeeze bottles – home cooks and aspiring food influencers proudly tout their EVOO (that's extra-virgin olive oil, if you're not an aspiring food influencer yourself) all over social media. It's an in-the-know badge for savvy cooks. As the person in charge of Graza's socials, no small part of Kendall's weeks over the past years have been spent sourcing UGC (user-generated content) and getting approval from the folks who created and posted it to use it on Graza's official channels, paid and organic alike. What this means is: DMing all those people on Instagram, uploading those assets to Air, and finally marking each asset as approved, and for what channels. It's a complex choreography given structure and reliability through Air.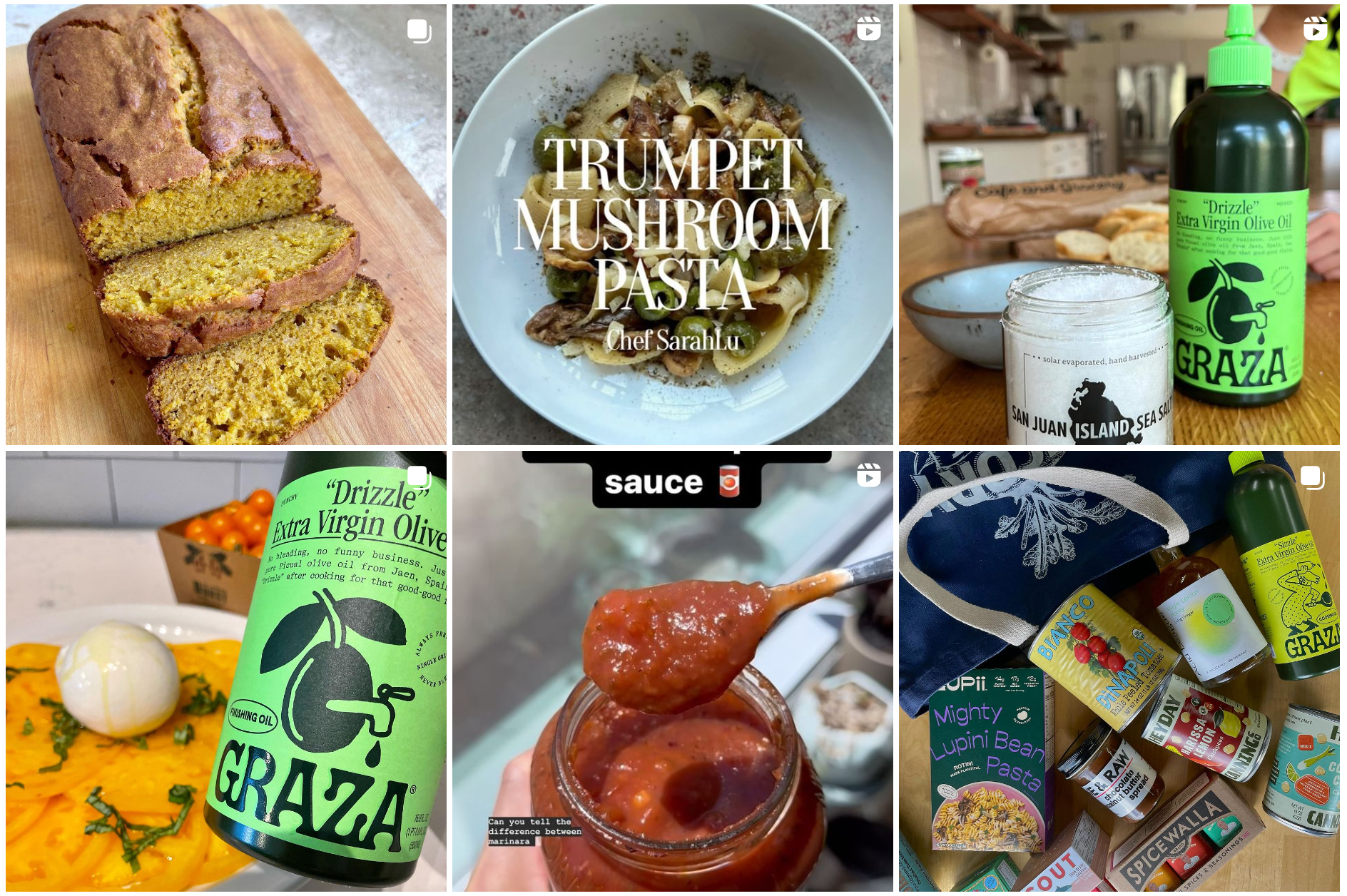 Just a few of the thousands of posts Graza has been tagged in on Instagram. Says Kendall, "All these assets go into Air, where I can tag them as approved for our paid social agency, and then it's right there for them to use." Kendall has also, of course, built out a workflow to manage the constant flow of content from paid influencers. We'll hear her tell it:
Graza does monthly content recipe shoots, where I manage six to ten creators each a month, by myself, to produce paid recipe assets. This can turn very messy very quickly, based on how the creator works. To keep everything in line, I've built a repeatable system in Air. Each time, the deliverables include a video, a recipe writeup, and a few photos. So a week before the recipe is due, each creator is sent an Air link to a content collection form that routes directly to that sub-board in our monthly content board. Then the people on our team who handle email and blog know exactly where that content will be, and they can just go in, grab it, and use it, knowing that if it's in there, it's approved.
Saving hours each day and days each month through Air
Even a decade ago, if you wanted a decent bottle of olive oil, you'd just go to the store, skim a few labels, and pick one that you were pretty sure was good enough. Now you learn about Graza on Instagram and beeline to your local Whole Foods to grab a bottle off the shelf, skipping over the wall of dim-green glass bottles. But upending the traditional shopping model relies on a constant volume of fresh content. Not just Graza's hundreds of Instagram posts, but, again, the thousands of assets produced each day by the brand's influencers and fans. Kendall and the marketing team around her spend hours and hours each month keeping the content (and oil) flowing. The reason she brought Air into the fold is they can't afford to waste time.
The main thing for me is Air saves a ton of time. It means I don't have to run after people to find assets. It removes the back-and-forth between the organic and paid social teams – there's no confusion on whether or not the assets are approved. Air maintains visibility as our teams grow, which saves so much time. Air saves me, over the course of a month, around three days of time. That's hours I'm not following up with people to find assets and hours I'm not spending discussing approvals with different social teams.