A family of brands born from years of experience building for the world's best
Pattern is a multi-brand consumer goods company, with each of its brands aligned on one mission: To help consumers find more enjoyment in daily life. Originally an agency called Gin Lane, Pattern was formed as a pivot in 2019. They launched with a kitchenware brand called Equal Parts and a home goods brand called Open Spaces. In their previous life operating as Gin Lane, the Pattern team handled strategy, brand, content, design, and development for an all-star lineup of clients — Harry's, Hims, Sweetgreen, and Recess, to name a few. In just over a decade, they helped create a total of $15 billion (and counting) in market value. Feeling burnt out and looking for a new challenge, it was an easy decision to enter the DTC market themselves.
A few of the most popular products from Pattern's Open Spaces brand. Today, Pattern's headcount sits at 40, though they're rapidly growing. This includes a marketing team of seven and a creative team of thirteen. These two teams work in close collaboration every day, handling product launches, campaigns, and advertising across all four Pattern brands. We spoke with Daniel Batten, the team's Creative Director, about how Air fits into this process.
Spending too much time finding assets in Dropbox
As you might imagine, operating four brands under one roof requires a prolific creative and marketing output. How do you deal with all that content? Even at the start, with just two brands and a smaller team, managing and getting the most use out of each asset posed a challenge.
In Dropbox, there was no easy way to find content beyond navigating through a folder structure. It was convoluted and confusing for new people.
Like many early-stage organizations, Pattern used Dropbox and Drive for asset management. But Dropbox wasn't searchable. There was no easy way to navigate to the content they needed day-to-day, especially for new people. If you didn't know the exact path to an asset, you'd never find it; you'd have to ask someone who did — usually, that person was Dan. These asks ate at his day, taking him away from more in-depth tasks.
When we were in Dropbox and I was thinking about scaling the team, it felt like I needed someone whose job it was to manage all our assets. It constantly took so much time away from what my team and I were actually being paid to do, what we're good at.
Marketing and creative teams are meant to spend their days deploying and creating, not scouring folder after folder for content they've already created. So, after countless hours spent fielding "where is this photo of that product" requests, Dan and his team sat down and started looking for solutions — something to get rid of all this handholding. They needed something that would enable anyone on the team to navigate their growing asset library independently.
Best-in-class searchability and customer experience
The Pattern team considered just about every "robust B2B solution" on the market. They found them all overpriced, and with dated UX — except for Air. Coming from Dropbox, Air's searchability and labeling functions were game-changing. That, plus the Air team's willingness to listen to Pattern's needs. Any bug, any onboarding request, was handled quickly and thoroughly. If features and affordability were the initial draw, it was the customer experience that sealed the deal long-term.
An example of Air's search functionality, summoning all 638 "navy" assets in Pattern's workspace. Determined to avoid the issues that plagued them in Dropbox, Dan and the team predefined a tagging system that would allow them to get the most out of Air's search function. They would tag every asset with metadata like date, color, products featured, brand, photographer, and so on. Then, they simply imported their thousands of assets, applied their tags, and revolutionized their workstreams.
I think in a week, I was spending at least 12-15 hours in Dropbox sorting out assets, trying to locate stuff for people. That was a very significant part of my week. It required so much ongoing maintenance, and now I'm probably in Air 1 or 2 hours a week, max.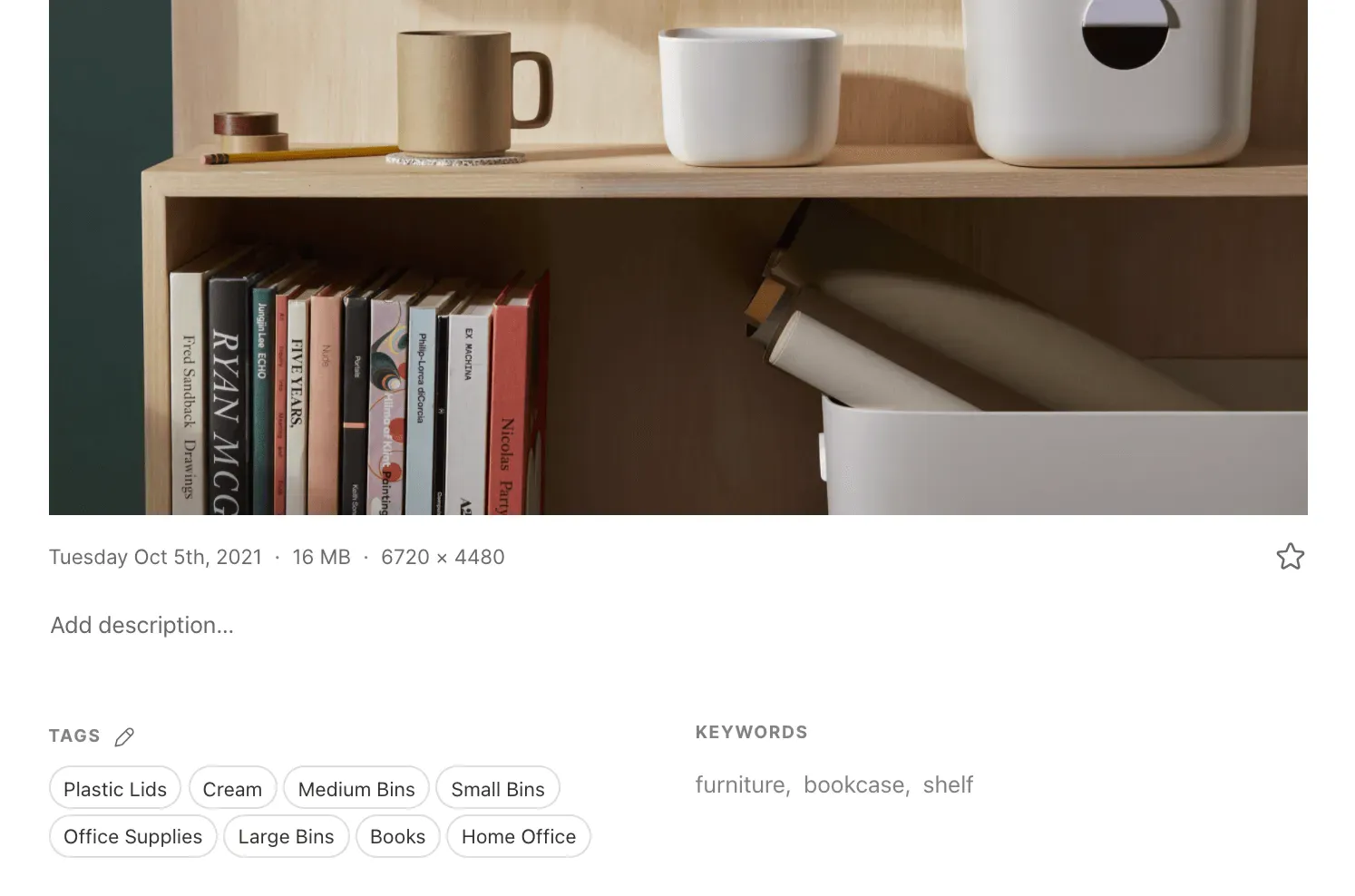 What Pattern's tagging strategy looks like in action, plus Air's auto-tagged keywords.
Air unlocked Pattern's asset library for their entire team
When Pattern began using Air in March of 2020, their entire team was around 30 people. Now it's over 40 people. As the team has grown, Air has even made onboarding easier. Before, there was no quick way for new team members to learn the full layout of the company's Dropbox. Dan and his team could try to teach them, but it took months to really learn.
In Dropbox, I was constantly fielding requests and having to point people to certain folders, or find and curate assets for people. Now can I trust my team to find, update, and label content.
With Air, it's just a matter of demonstrating how to use the search function — teaching people to search how they think, without struggling to remember arcane folder structures. Dan referenced the old proverb, "Give a man a fish and you feed him for a day. Teach a man to fish and you feed him for a lifetime." Air gave the entire team the ability to find what they needed themselves, instead of asking every day. Certain pockets of the team have specialized use cases. For example, the growth team uses Air for content collection, working with a roster of creators and gathering user-generated content (UGC). The rest of the team mainly uses Air for finished assets — already selected and retouched, uploaded to Air when ready for use.
We're able to just send out a link for people to upload to, much more easily than in Dropbox or Drive.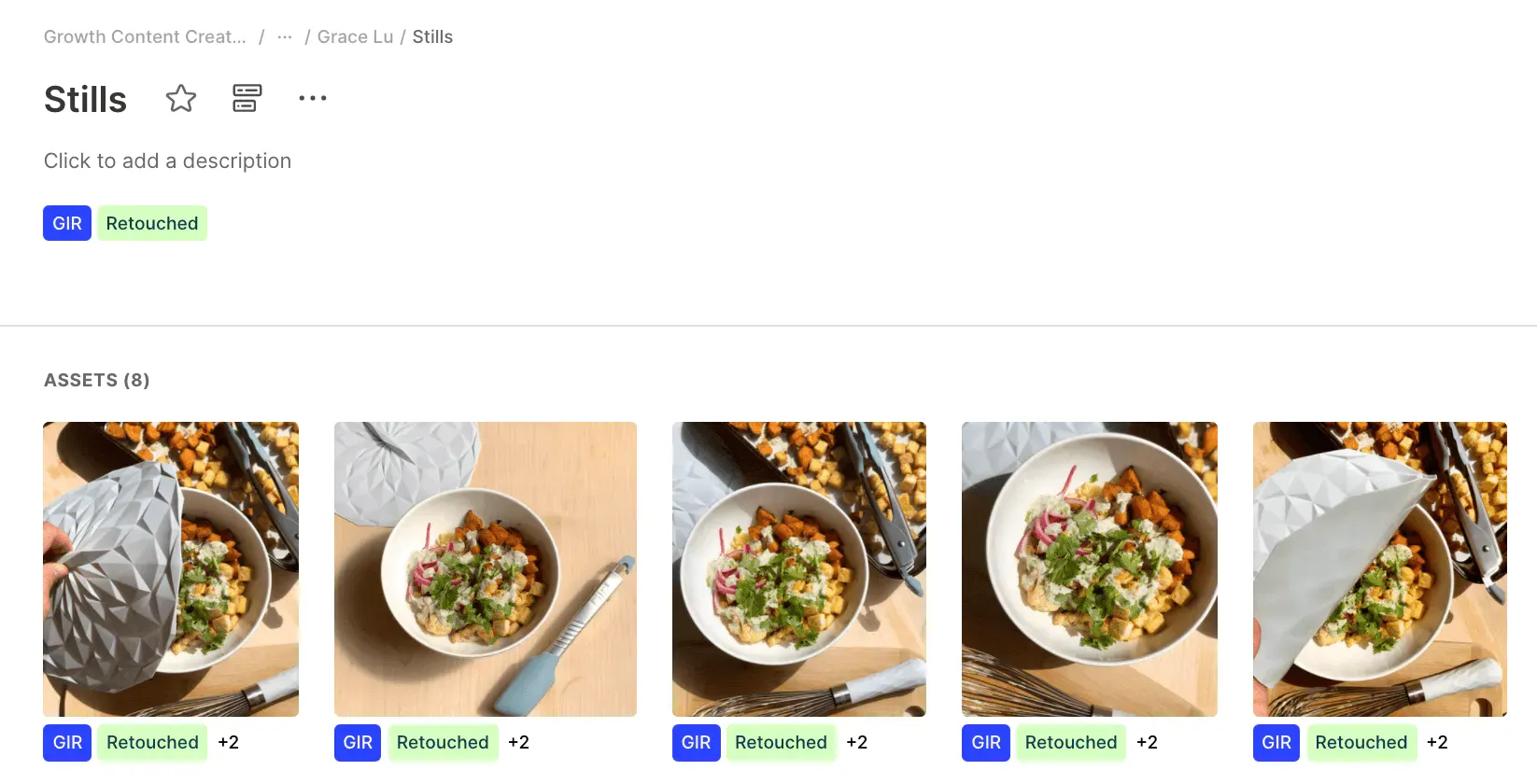 A sub-board within Pattern's Growth Content Creator workstream, featuring custom fields for edit status, brand, and usage rights. The fact that you can distribute a single asset to multiple boards across a workspace without actually duplicating it or taking up more storage is also crucial to Pattern's Air usage. Different teams have different uses for the same asset. One asset might live in multiple boards: for example, a piece of UGC could have a home in the UGC collection board, the Website board, and the Social board.
We encourage different teams to go into Air and curate assets into boards for their own workstreams, rather than just searching and downloading on an ad hoc basis.
Continuing to grow the Pattern brand family with Air
At the time of writing, there are four brands under the Pattern umbrella. In the coming years, that number will steadily increase. Part of what attracted Dan and his team to Air was their need to account for this growth. New brands mean new assets, new creative needs, new team members, new workstreams. Air ensures that this growth won't be painful.
As we bring on new brands, they'll all have different needs from both an asset and a labeling perspective. Every time we bring in a new brand, it teaches us new ways to use Air. It redefines how we structure our boards, or how we use our labels. But the flexibility allows us to react quickly and ultimately end up with a stronger, better-structured workspace each time.

Viewing assets at the board level in the Open Spaces corner of Pattern's Air workspace. For Pattern, Air is simply the best tool to handle their endless content creation and growth needs. When they started out as Gin Lane over a decade ago, Dropbox and Drive were the only option — that's no longer the case.
Dropbox and Drive served a really good purpose 10 years ago, when the functionality was new, but I don't think they've updated to solve the problems for people who are actually using these products. Air is essentially the 2.0 of these tools.
Pattern's workspace currently holds nearly 150 GB, comprising over 8,000 assets. All it takes for any given team member to sift through and find exactly the photograph they're thinking of is to simply type in a few descriptive words and hit the search button.
That's the game changer. If you go with a search-first approach to your assets, then it grows with you over time. There are much less hiccups and growing pains than if you start with a folder-based approach.