An accessible, affordable, and truly modern orthodontics brand
Candid is a telehealth company eliminating barriers to orthodontic treatment. It's an affordable, remote-first, orthodontist-led, and accessible service — the chic, modern evolution of traditional braces, at less than half the price.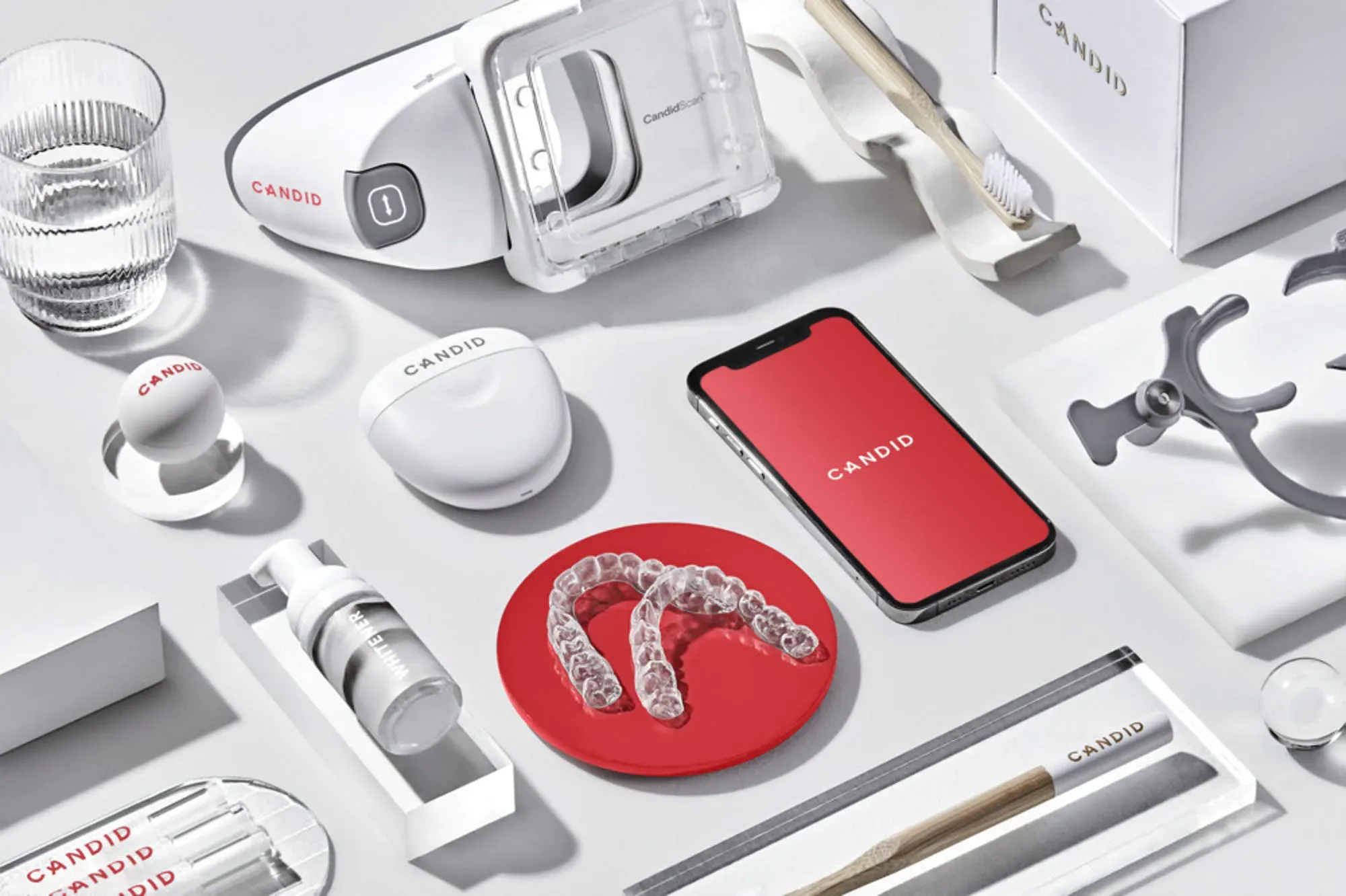 Some of the items patients receive throughout their treatment, including the CandidScan device, aligners, and whitening solution. Candid launched in 2017 and has since served tens of thousands of patients, opened dozens of physical locations, and hired hundreds of employees. Every touchpoint, from the retail studio design, to the aligner packaging, to the marketing collateral, is impeccably designed. We spoke to Andrew Peet, Creative Director on Candid's marketing team, about how they keep their creative machine so effective.
Over my career, I've used every cloud storage service under the sun, and never found one that was remotely good enough. Finding Air was the answer to a lot of our problems.
Peet, and many of his colleagues, come from an agency background. As such, they've structured their marketing and creative teams as an in-house agency. The current headcount is 18 on the Brand team, which sits within a larger Marketing team of 35 — to zoom out even further, Candid currently employs a total staff of over 500.
Paying too much for too little with Dropbox and Drive
As is the case at many young organizations, Peet's team initially used Dropbox and Google Drive, plus servers and hard drives, to store and distribute their creative assets. Photoshoots would be delivered on drives, which all lived in a cabinet in the office — until the pandemic hit. Once the team was forced to work from home, they ran into problems. Some of the storage drives were still in the office, some were in employees' homes; some assets were on Dropbox, some were on Drive. There was no comprehensive asset library, just a fragmented series of storage units.
We were paying Google Drive and Dropbox thousands of dollars every quarter to do essentially the same function.
The new problems of remote work forced Candid's marketing team to reassess their tools and processes. They realized they were spending thousands of dollars on both Google Drive and Dropbox, with no real differentiation between how they used each tool. Facing the decision to pick one or find a different tool entirely, they researched the market, discovered Air, and made the switch.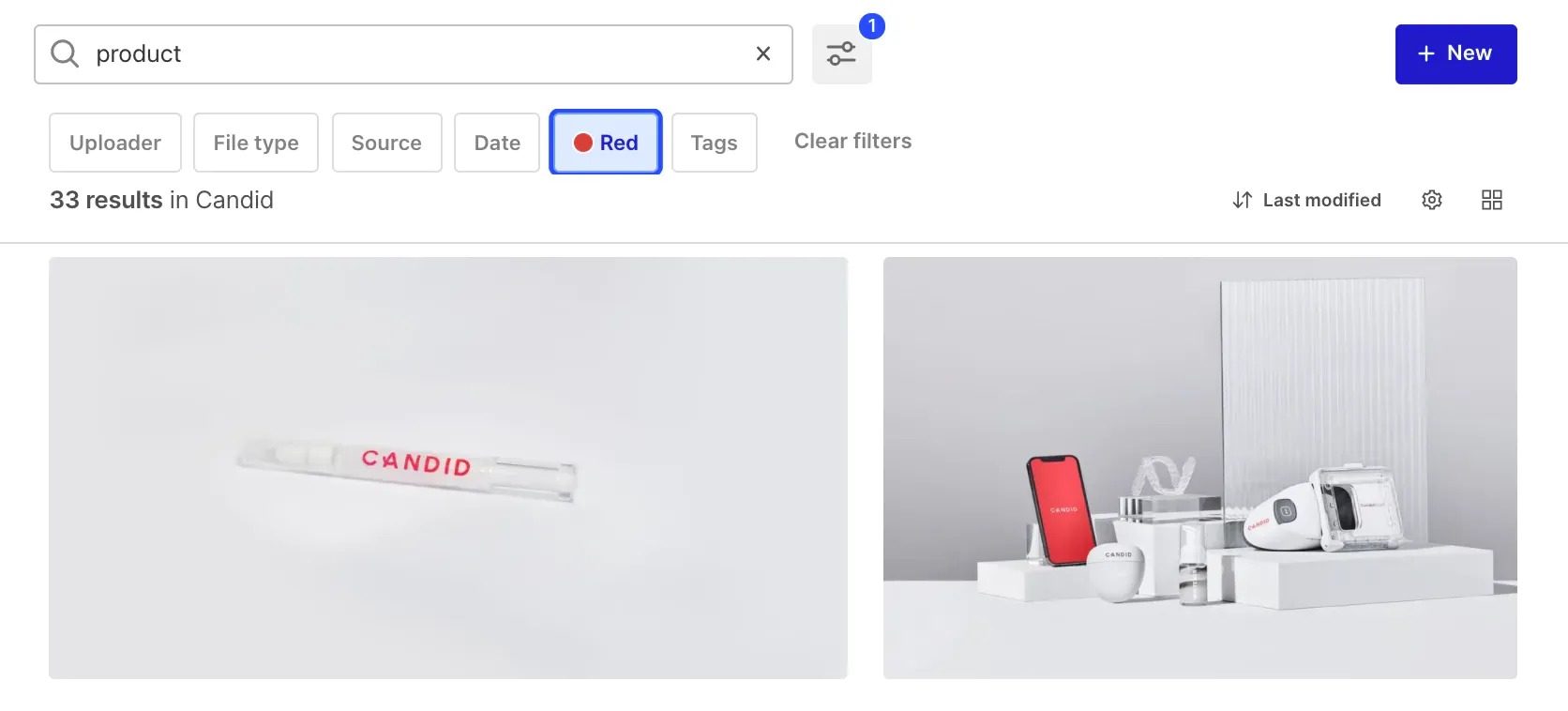 A search for "product," filtered to only show results featuring the color red.
A tool-fatigued team won over by Air's intuitive search power
Search, more than anything else, convinced Peet and his team to switch to Air. In their previous tools, Candid's marketing team lost hours every day hunting down assets that were otherwise ready for use.
I've used Box, Google Drive, Dropbox — every existing tool. My biggest problem was that they're all identical. When we looked at Air and saw just how differently it was set up, and the power of search especially, it clicked for us: Air is something completely different.
Peet admits that at first, his team was reluctant to try a new tool, burnt out from years of working in existing tools that created as many problems as they solved. But after the first demonstration, the team was thrilled at the promise of true searchability. Once they migrated their assets, the team took to Air immediately, pleased by their newfound ability to search by content, not just by filename.
Air is a system that can be put in place and be used by any team member, from anywhere, at any time, to get the job done.
Freeing up the team to concentrate on their actual work
Candid's marketing team began using Air in 2020. Just over a year later, their workspace holds 90,000 assets (and counting), comprising 5.5 TB of storage. The best part? They're no longer wasting their workdays hunting down assets.
Before Air, our Lead Brand Designer, Carly, spent up to 20% of her week finding assets for people. Now it's around 2%. Air has freed her up to concentrate on her actual work, not librarian work.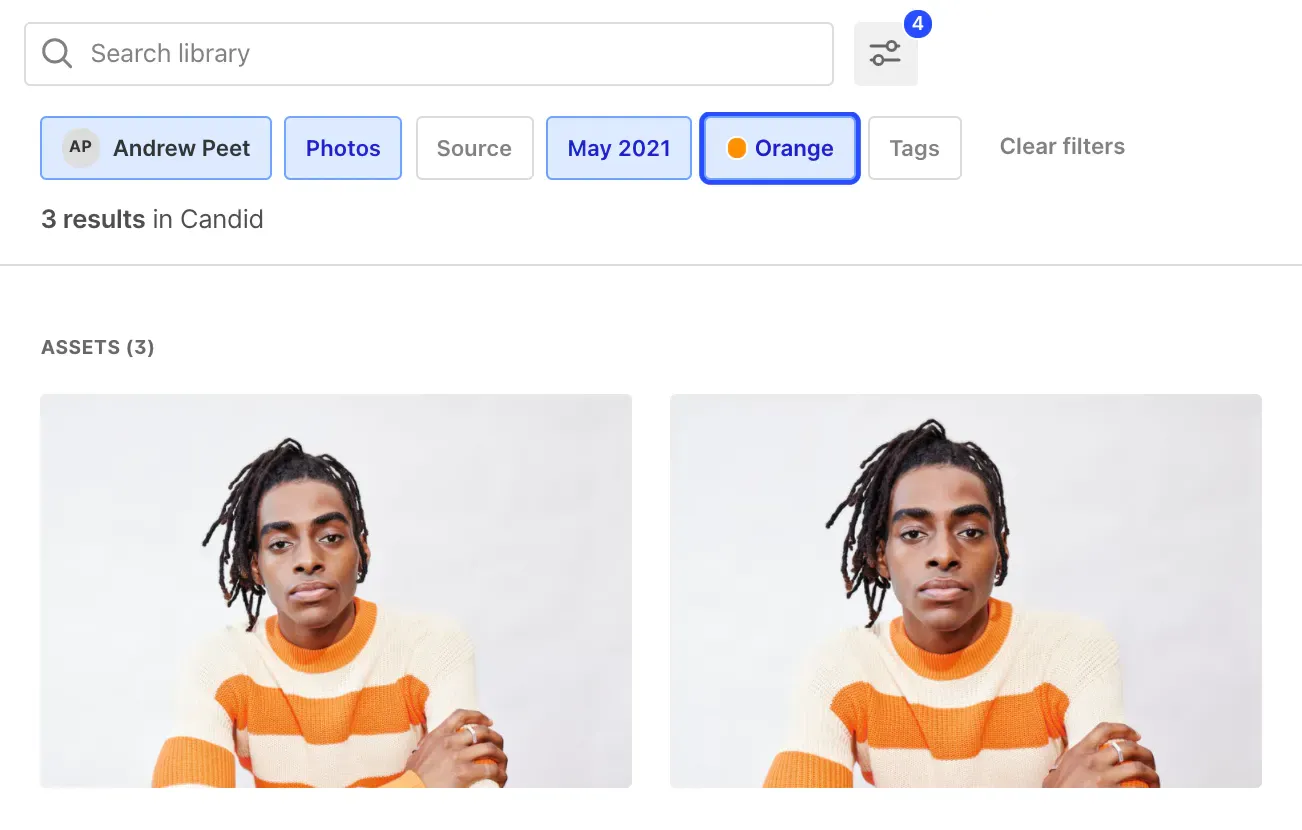 Here's the entire Candid library, filtered to show only orange-featuring photo files, uploaded by Peet in May 2021. Another unlock has been smoother onboarding and better organization for creative partnerships:
One thing I really like about Air is the ability to create walled-off areas for our partners. We have boards on Air titled "Candid x whichever partner." Each one enables our partners to easily come in and grab style guides, fonts, assets, stuff like that. What I love about this, as opposed to other platforms, is I don't have to upload these assets every time — I can just add them from another board. I don't have to spend time duplicating and I don't end up with a waste of duplicated documents on our servers.
One of Candid's boards built specifically for partner collaboration. Peet mentions Candid's designers as being just as excited about Air as the marketers — their work is now easy to find, and easy to resurface for edits. It's even improved the workflow of his content writers:
A content writer on my team doesn't know the name of the shoot that we did two years ago and the associated filenames to go find that picture. They just know, "Oh, I need that photo of the person holding the toothbrush." For them to be able to just write that in the search bar and find that image, without having to either spend half an hour hunting through the photos themselves, or asking our Lead Designer to find that image for them, is incredible.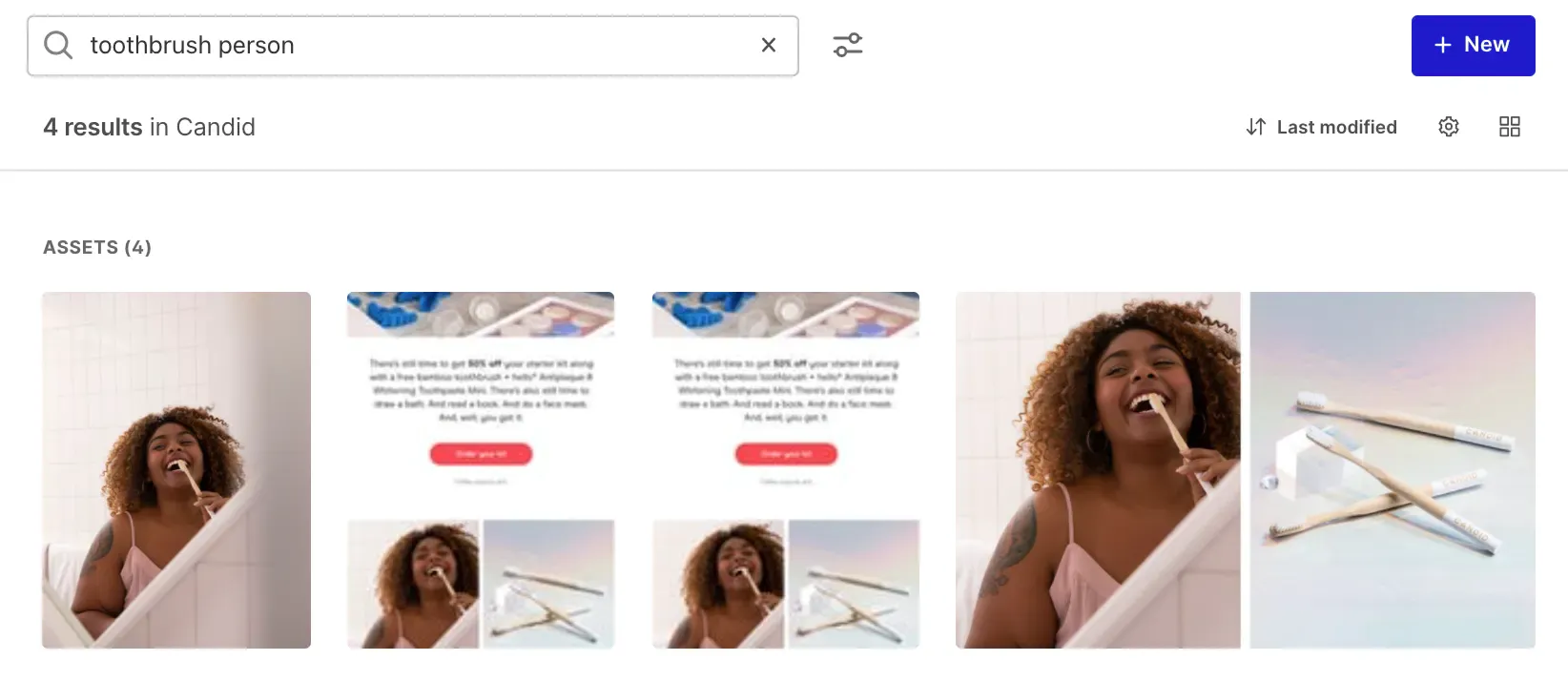 Precise results from a precise search query — note that these assets were not manually tagged: this search was entirely powered by Air's image recognition keywords.
Air's flexibility makes growth that much easier
Peet compares what Air has done for asset storage and management to what Figma has done for design tools — a complete rethinking, instead of just putting the existing tools in a web browser. Google Drive and Dropbox essentially just put a hard drive, with traditional folder structures, on the cloud, without addressing the needs or designing to the true strengths of the cloud. Air, says Peet, "offers new functionalities and new ways of working."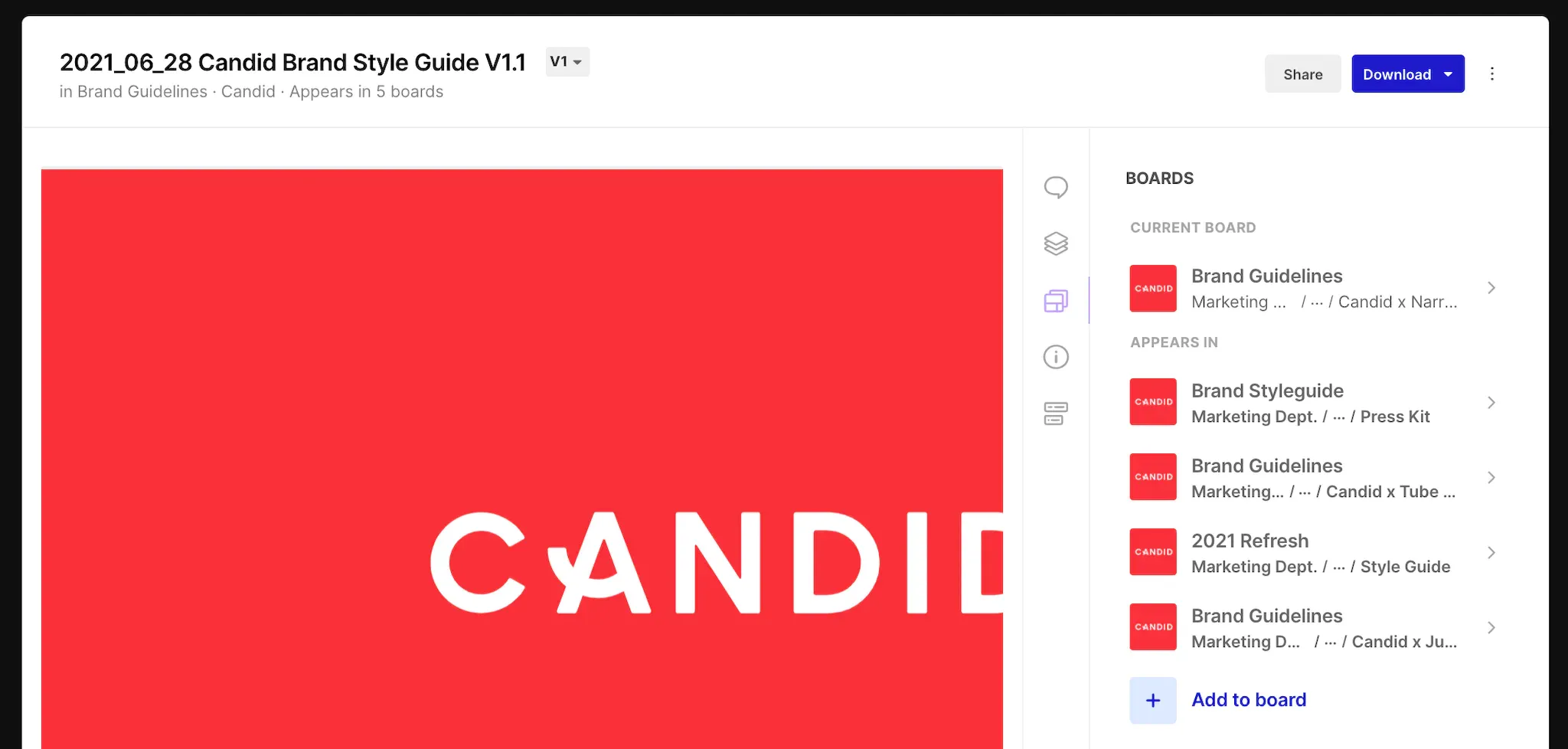 Within the Boards tab for Candid's Brand Guidelines PDF. You can see which boards in the workspace it lives in, and quickly add it to more, without duplicating the file itself. The Candid team has been happily using Air for more than a year at the time of writing, and has plans for expansion. Just like they have an in-house creative agency, they've begun building an in-house production studio. It'll be a space to shoot, edit, and record video, audio, photography — everything. For Candid, Air is a centralized creative workspace that has effectively democratized access to their massive asset library. Even as that library continues to grow, at an ever-increasing pace, anyone on their marketing team will instantly be able to find the assets they need to do their jobs.
Air enables anyone on your team who needs assets, but lacks the institutional knowledge of when and how those assets were created and stored, to be able to just go and find what they need themselves. That's the unlock.