Modern marketing for modern travelers
Beautiful Destinations is a globally recognized brand in the travel space with an award-winning, full-service creative agency focused on connecting world-class destinations with tomorrow's traveler. Their work spans the globe, with a client portfolio featuring organizations like the Egypt Tourism Authority, the Jamaica Tourism Board, and Air Canada. Though they're based in New York City, they work with the best strategic and creative freelancers across the world to capture and create stunning travel content that shifts traveler behavior globally. Nearly 50 people work at Beautiful Destinations. Including freelancers, there are 15 people on the social media, production, and post-production teams. Today, all 15 of those people work in Air. Much of their work ends up on the company's Instagram, which currently has a whopping 22.4 million followers. Between work for client campaigns and the company's own social media, the team keeps extremely busy. We spoke with Oliva Mazzetti, the team's Senior Post Production Manager, to learn more.
Our major need was, how do we make our footage accessible to everyone that needs it? We didn't even know what we needed in terms of structure, and working with the Air team to define those needs couldn't have been easier.
Video content takes up the bulk of Beautiful Destinations' production work. Stunning mountain vistas, impossibly turquoise seas, lush jungle scenes — properly capturing all these beautiful destinations means the agency produces many, many gigabytes of high quality photo and video files. At the time of writing, their Air workspace holds over 63 TB of content, which is over 351,000 assets. Before Air, all that content was much more difficult for their distributed team to access.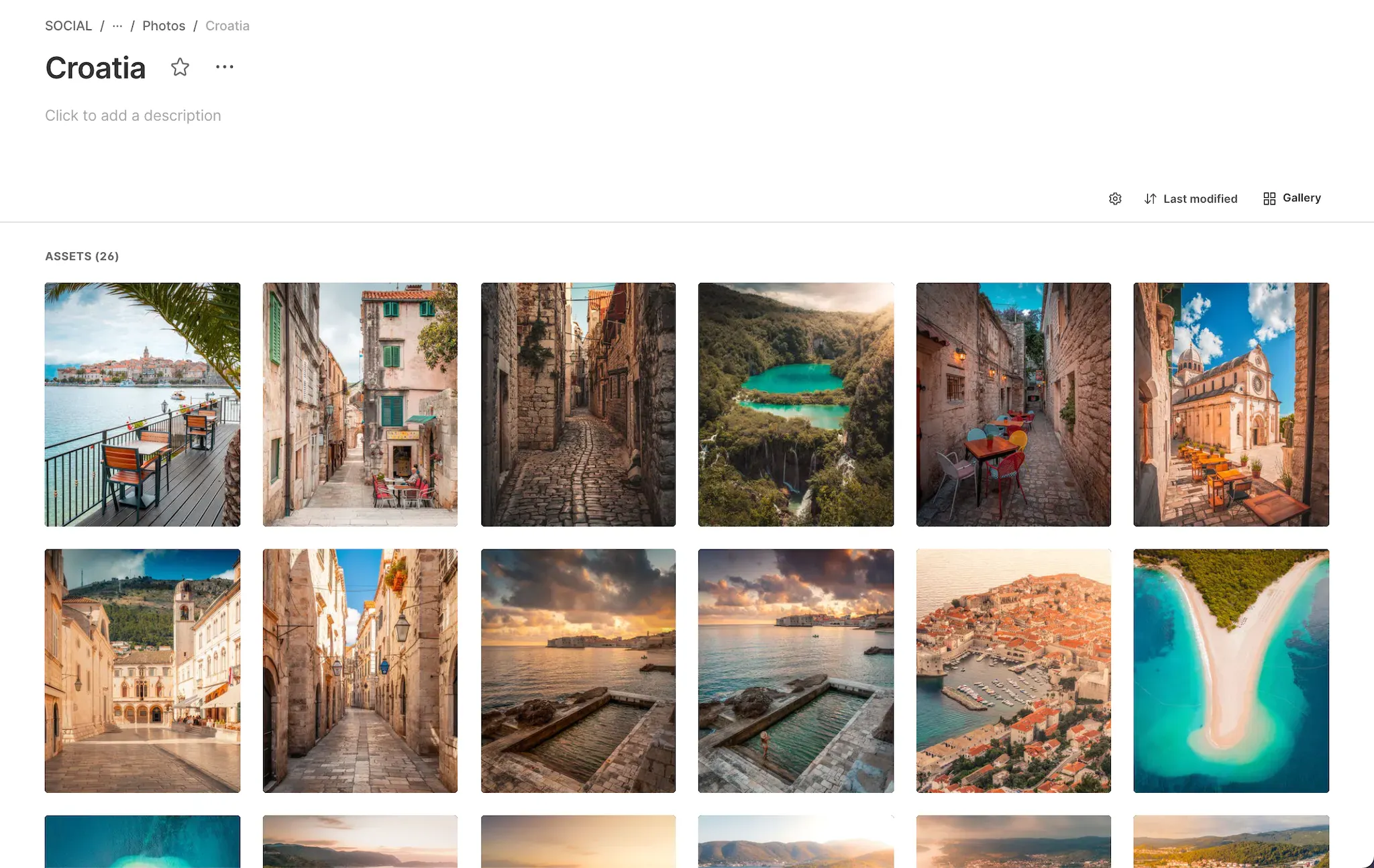 A selection of Beautiful Destinations' stunning travel content, stored in Air.
Shipping hard drives, sifting around multiple cloud storage accounts
Before the pandemic, Beautiful Destinations was based out of an office just steps away from Madison Square Park, in New York City. That's where their content lived, too, in cold storage and on a server in the office. Some of it also lived on cloud storage and digital asset management (DAM) platforms, but hard drives were the foundation of their post-production workflow. Once the pandemic hit and that NYC office went fully remote, the Beautiful Destinations team had to scramble for a solution. At the start, just like they'd done previously when working with remote freelancers, they just shipped around hard drives. It was simply the fastest, most efficient way to work, since having to constantly upload and download massive video files creates bottlenecks. As for their cloud storage at the time … it was a challenge. They kept a large amount of content online, but it was spread across hundreds of folders and multiple platforms. Seemingly similar files with different names existed in various folders; with no ability to tag or save version information, they'd have to download them to compare and decide.
The price point Air offers, in terms of the amount of storage available, is unmatched anywhere. The fact that we can go month-to-month is huge, since we're frequently uploading new content or pulling down old content that becomes irrelevant.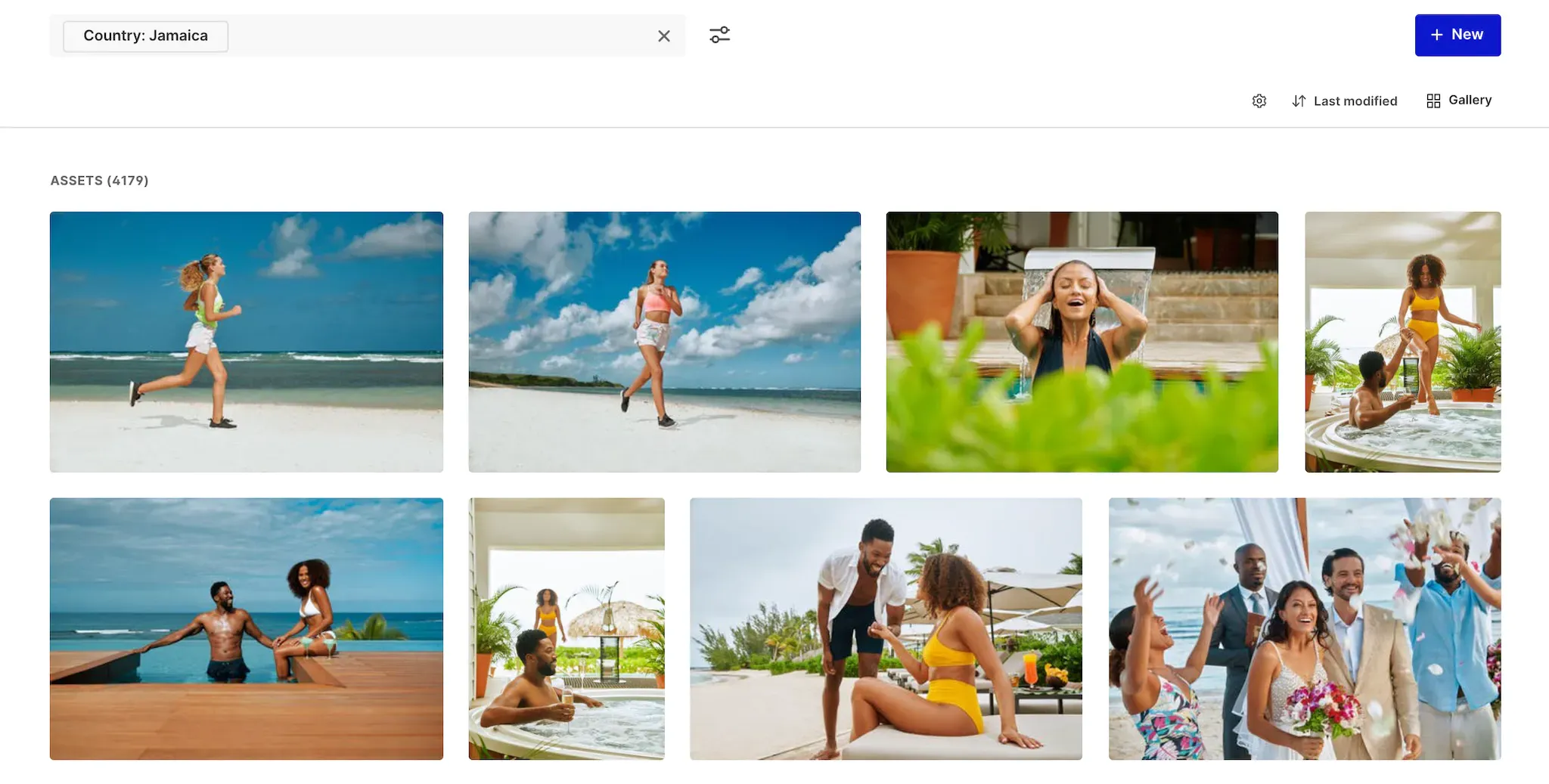 Beautiful Destinations' workspace includes 4,179 assets tagged "Country: Jamaica," alone. The team had heard of digital asset management, and they'd tried a few different DAM providers. They kept 2 TB of content on one platform, using it only to store final video drafts. Price was an issue, though. They needed a solution that could not only store those final drafts, but also the raw footage, at a reasonable price point. They liked some platforms' tagging and sharing features, but found that none of the options were able to scale with them. Then, with the pandemic setting in and their existing processes proven unfit for the new reality of remote work, the Beautiful Destinations team discovered Air — a perfect fit.
A quick, painless layover from cloud storage and DAM to Air
The Beautiful Destinations team desperately needed two things: to replace servers and to give structure to remote work. Specifically, they needed the ability to pull selects, make edits, and store proxy files. They needed one solution that was easy to utilize both for their people deep in the editing process and for the people on the high-level creative side. They found all of that in Air.
Migrating our assets from our cloud storage to Air was not even a process. We pressed two buttons, and all of the content just populated our new Air workspace. I actually don't understand how that process can be so fast.
Once they'd chosen Air, migrating content from their existing storage was absolutely painless. Air offers imports from the most common cloud storage platforms at the press of a button. To migrate from their DAM provider, they just filed a request with their dedicated Air support team, and within two weeks all 40,000 assets were in Air, with all existing, customized metadata intact.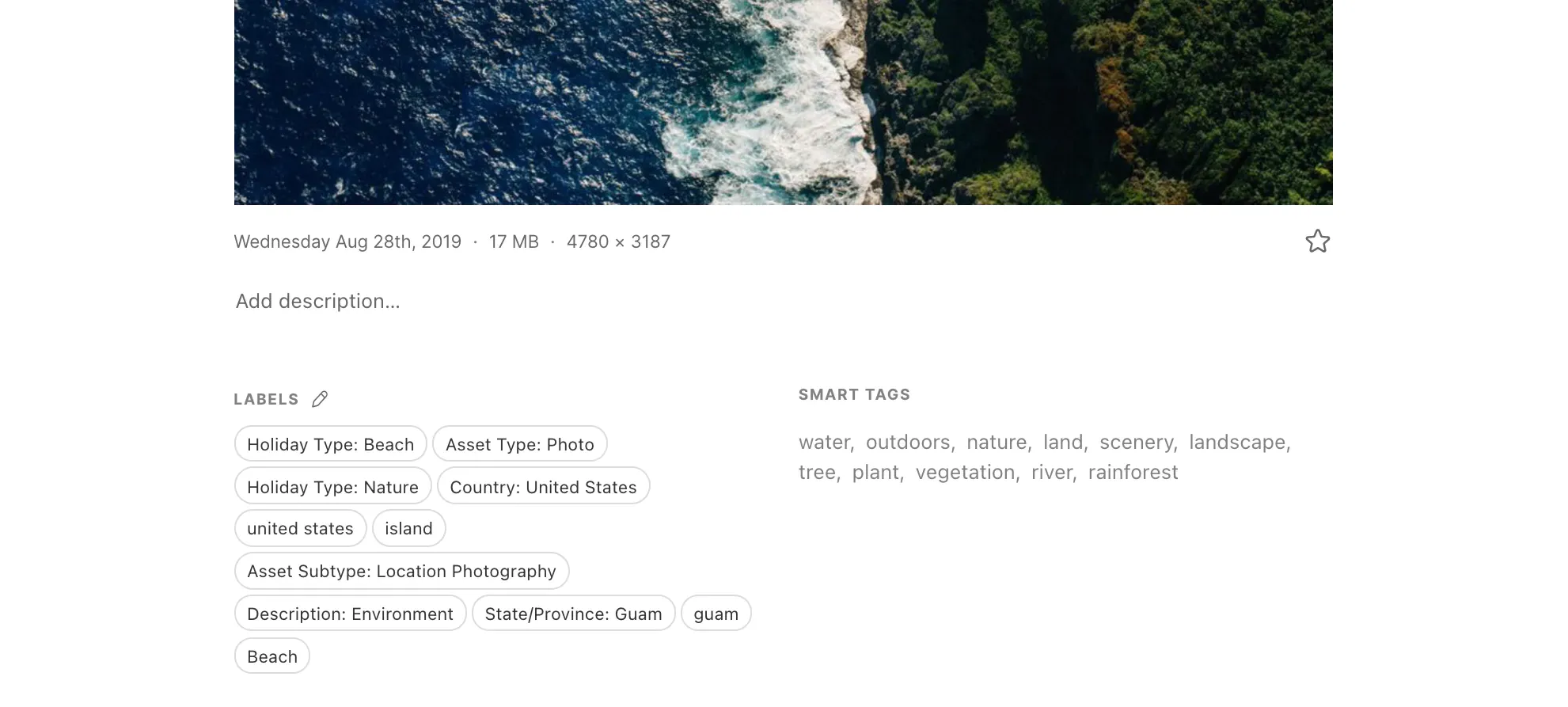 All the custom labels and smart tags on a photo of a shoreline in Guam.
Working in Air with perfect clarity
The primary differentiator between all of Beautiful Destinations' content is location, location, location. For any given project, they might need to pull content created in a very specific location — like Montego Bay, Jamaica — or content featuring a type of landscape — like beaches.
Instead of going through hard drives manually, I can just quickly search for a piece of content on Air. It saves me up to 10 hours a week.
Air makes those precise searches incredibly easy. As a foundation, there's the platform's automatic tagging. Anytime a piece of visual content enters an Air workspace, it's instantly scanned for content and given relevant tags, like "beach," "water," "trees," "animal," "person," or "people." On top of that, Oliva and her team always add custom labels around exact locations, photographers, and so on.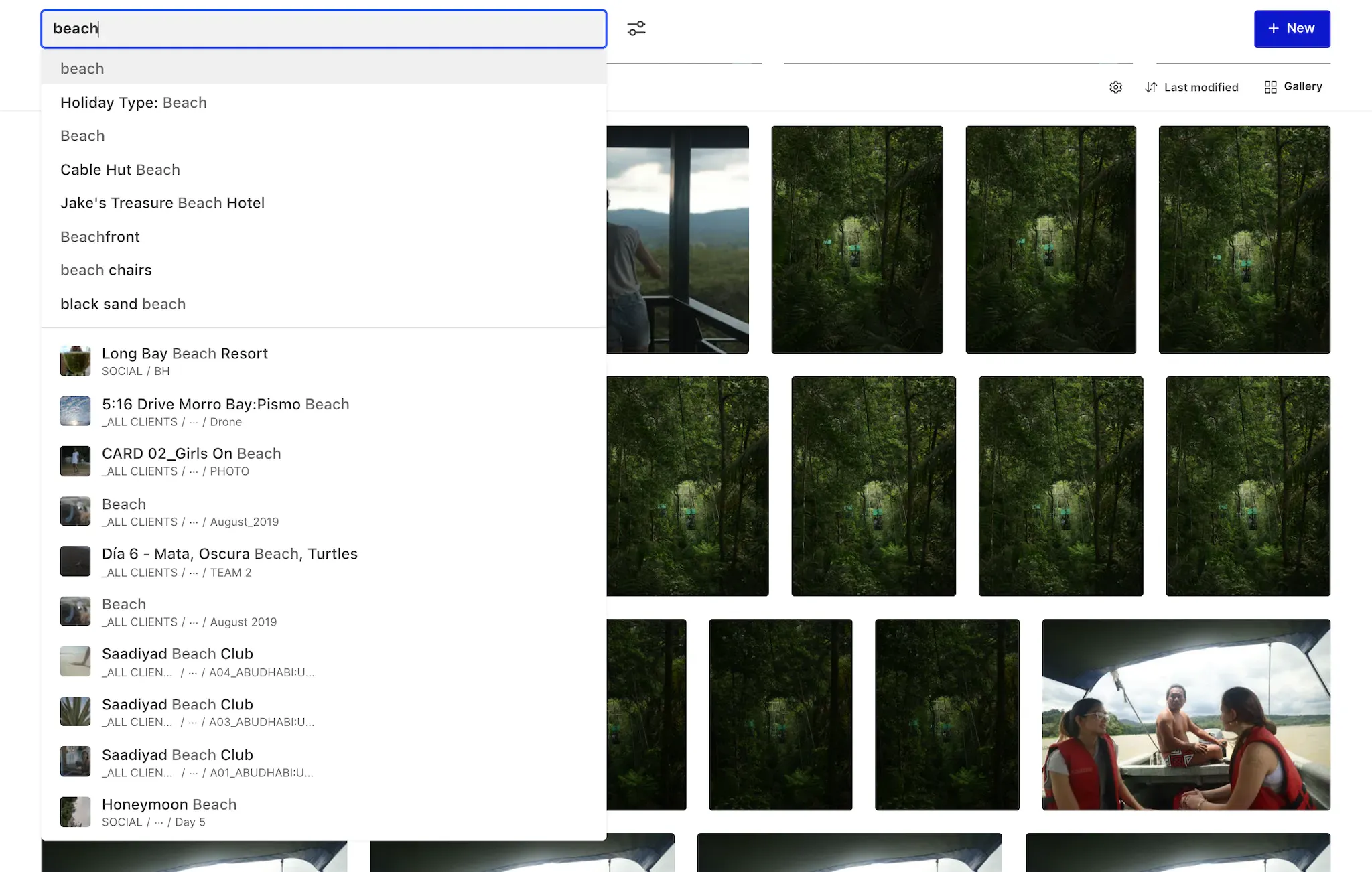 An example of how the search function works, scraping smart tags, custom labels, and titles. Another Air feature lacking in their previous system of tools is custom fields. It's extremely helpful when they're making selects for clients, choosing the final deliverables. They'll create a board for the client presentation and create ratings — they're easily able to mark their first round, second round, and third round picks. Being able to do this without duplicating files is a major plus, since the files are often quite large, and duplicating them would be a massive waste of storage space.
Room to grow
Beautiful Destinations has been on Air for nearly two years. In that time, both companies have seen rapid growth. Any time the Beautiful Destinations team has needed a new feature, or to see an existing feature tweaked to support a new workflow, they've found the Air team incredibly responsive. Oftentimes, that new feature request will be done in a day. Oliva stressed that Air's empathetic and dedicated support staff have been a huge plus. Beautiful Destinations plans to continue using Air in the long term. They only have more and more content to produce. Occasionally, they do pull down old or irrelevant content, but their storage needs steadily increase over time, and will continue to do so.
Working remotely, Air is our server and the main space for our company and our freelancers to access footage, pull selects, and do edits. It sits at the center of our creative production process.