Potatoes are a staple food for over a billion people worldwide. The Little Potato Company, based in Canada and the United States, specializes in Creamer potatoes — tender, buttery morsels, the cream of the crop. Founded in 1996, The Little Potato Company offers a precisely curated range of products: 1.5 and 3 pound bags of fresh Creamer potatoes, and 1-pound bags of microwave, oven, and grill-ready Creamer potato kits. The packaging is clean, inclusive, and educational; this is a modern potato company. A crucial ingredient in The Little Potato Company's success is their understanding that every modern business is a media business. They're on social, at trade shows, email campaigns — all of it. A particularly strong example of their media savvy comes in the form of their website's deep and truly useful recipe center. If there are Creamer potatoes in it, The Little Potato Company will tell you how to cook it with ease. Frankly, their recipe UX, as seen with this one for Salmon Tartare Smashed Little Potatoes, outshines many dedicated recipe websites. In-page checkboxes for both ingredients and recipe steps? Incredible. It's a simple, effective idea: teach someone to cook potatoes, and they'll buy your potatoes for the rest of their life.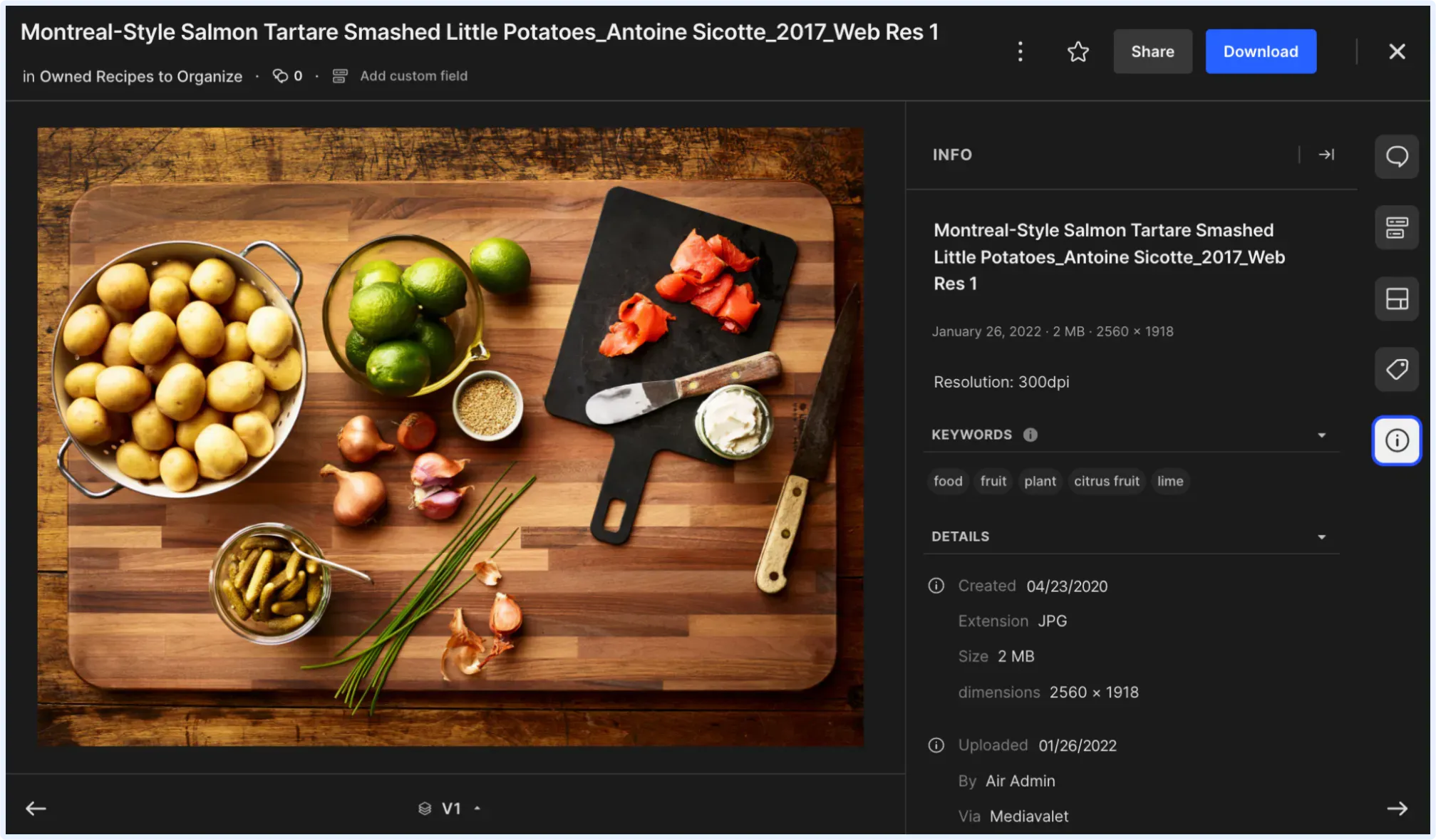 Note Air's AI-powered automatic keywords, making assets searchable by in-image content.
Effectively managing The Little Potato Company's creative and brand assets
The Little Potato Company produces bushels upon bushels of content. Yes, written recipes — but also videos, process shots, and beautiful photographs of appetite-whetting dishes. Not to mention logos, packaging assets, and so on. The Little Potato Company uses Air to store all of that content. Their workspace was built specifically for their eight-strong Marketing team, though they frequently create share links to share with the broader organization. Therise Duck, The Little Potato Company's Creative Project Manager, ensures the workspace stays tidy, but the team feels comfortable storing, finding, and manipulating assets unsupervised. Says Duck, "Air feels like an extension of our computers. Our team members easily find what they're looking for and love that they can download and change the asset to a specific size." Within the Digital Content corner of their workspace sits the Recipes board. That board contains thousands of visual assets and nearly 1,000 recipe document files, all comprising over 100 GB. That's nearly a fifth of their entire asset storage — again, this is not just a potato company, it's also a media business.
Immediate onboarding, responsive support, and unparalleled ease of use
Running a consumer packaged goods company with an internal media operation isn't a simple task. Duck and her team need their marketing stack to be reliable, intuitive, and accessible for a wide range of employees. Air met all these needs. Hear it from Duck herself:
Our marketing team no longer dreads dissecting folders for uploads, and no longer cringes at the thought of asset maintenance. The whole switch to Air was painless; it took us just 24 hours to get up and running.
Our customer representative at Air responds to our questions within minutes; we never have to wait days for an answer. I'm so glad we switched." Says Alex Greene, The Little Potato Company's Website and Email Specialist:
I've worked with several digital asset management tools and Air is easily the most intuitive, most visually appealing tool I've ever used. The board system is easy to use, the drag-and-drop features are a dream, and the one-to-many approach allows everyone on our team to use their own systems for organizing without cluttering the database. I absolutely recommend Air to anyone looking to improve their processes of housing and managing digital assets.
With "one-to-many," she's referring to the fact that Air enables a form of asset duplication while avoiding storage waste. Users add individual assets to as many boards as they please — perhaps adding the same raw potato photo to multiple recipe boards — without actually duplicating the asset itself. Put simply, the same asset can be in two places at once. So, how does a quarter-century-old Creamer potato company thrive in the modern era? By acting as a media company, and using Air to structure the brand engine powered by their marketing and creative teams.