The James Beard Foundation (JBF) is a nonprofit organization whose mission is to celebrate, support, and elevate the people behind America's food culture and champion a standard of good food anchored in talent, equity, and sustainability. JBF has over 40 full-time employees, not to mention a healthy roster of freelancers. We spoke with Maggie Schoenfarber, Director of Content Strategy and Development, about managing JBF's massive, living content library.
30+ years = 377k+ assets = 13.5+ TB of content
Since JBF was founded in the 80s, they've produced thousands of events. Prior to the COVID-19 pandemic, they hosted more than 200 events a year at their New York City headquarters alone and continue to produce local events all over the country, celebrating regional chefs, cultures, and cuisines. All of these events are documented by JBF's nationwide network of freelance photographers and videographers. Over the past three decades, this work has resulted in hundreds of thousands of images and videos — like every other modern organization, JBF is a media business.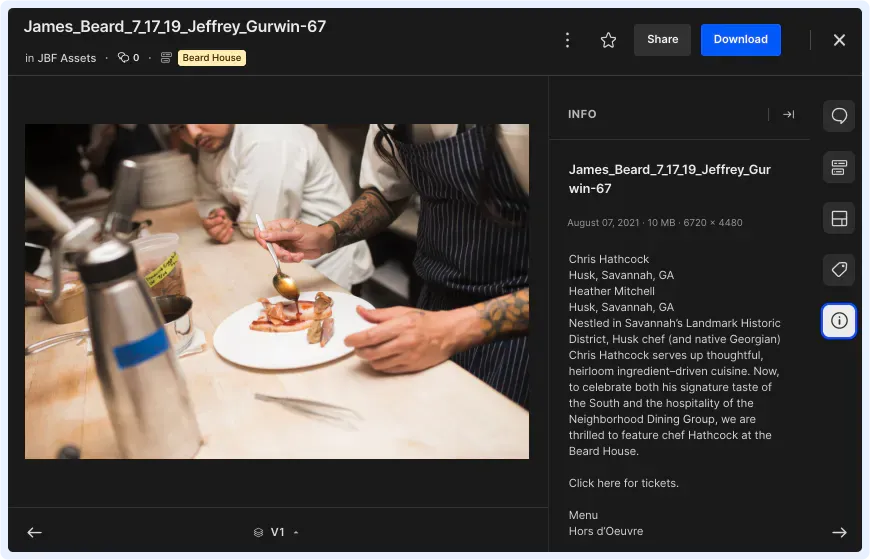 In the mid 2010s, they picked up a digital asset management system and began organizing their archive, but the software was too technical for the majority of the folks who needed to use it. Even for the tech-savvy contingent, there was a slew of frustrating quirks — particularly a slow, imprecise search function. Switching to Air brought a world of difference:
The UX and design, across the board, immediately made an impact. The media team is very used to the nitty gritty of working with photos and videos, but it's always been difficult for the rest of the org. The fact that we can easily share a link with someone internally and make sure the assets live in one place is very important.
With their previous software, JBF's Media team inevitably became a bottleneck for colleagues searching for specific assets; Air erased that issue.
Air's smart tagging blew me away. I'd never thought about AI in this context. We had always relied on the institutional knowledge of people who had worked at JBF long enough to understand where in our system assets lived. A lot of that knowledge was just in my head — 'oh, I know to look in this folder for this thing.' But that's not a sustainable system. Air solved that problem, making our archive approachable and user-friendly.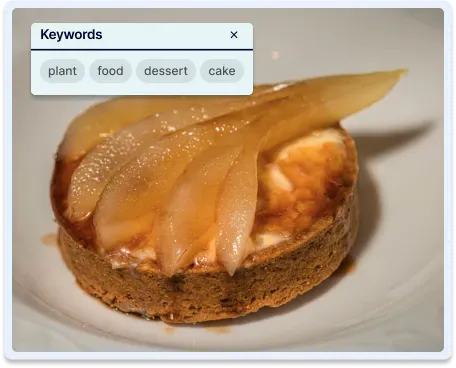 Smart keywords are automatically applied, as shown here with a photo of a delicate dessert.
The life of a photo, from snapped to shared
A recent event at JBF shows how nimble Air's platform can be:
We have a program called JBF Greens, for members under 40. They just had a holiday dinner at Contento, a new restaurant in East Harlem. We had a photographer there, Mikhail Lipyanskiy, capturing photos all night. The next day, I sent him a link to a board I'd created — a board under his name within our Photographer Uploads board. Now, any time he works with us, he can just upload to this link, creating a new sub-board for each new event.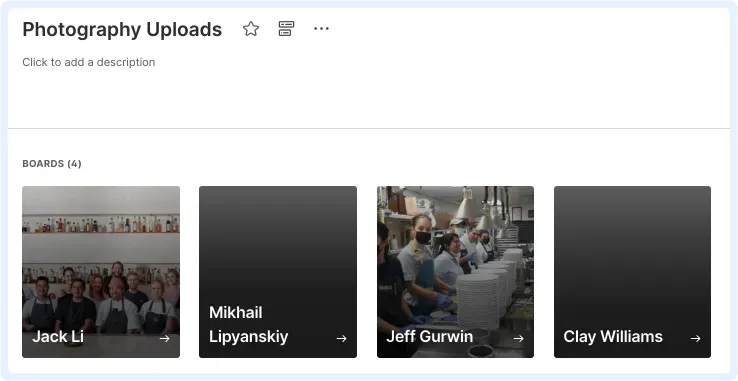 He uploaded his selects and used the Custom View feature to organize them in the order he wanted. Then I went in and bulk-tagged the assets with his name; added his name and a link to the event page, plus the location and date of the event, to the board description. So now any time somebody needs these photos, they have full context. Then I added all those assets to a new board specifically for that event, elsewhere in our library.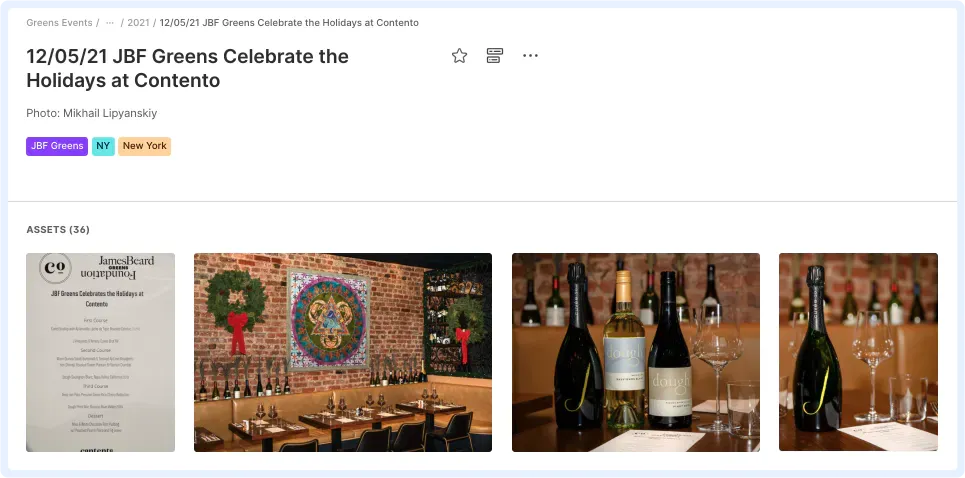 I sent that board to our events team to share with people who were at the event, the wine sponsor, or to Contento's team. Down the road, we'll reuse the assets in marketing materials, as developmental material for the Greens program, in a board report, or an annual report.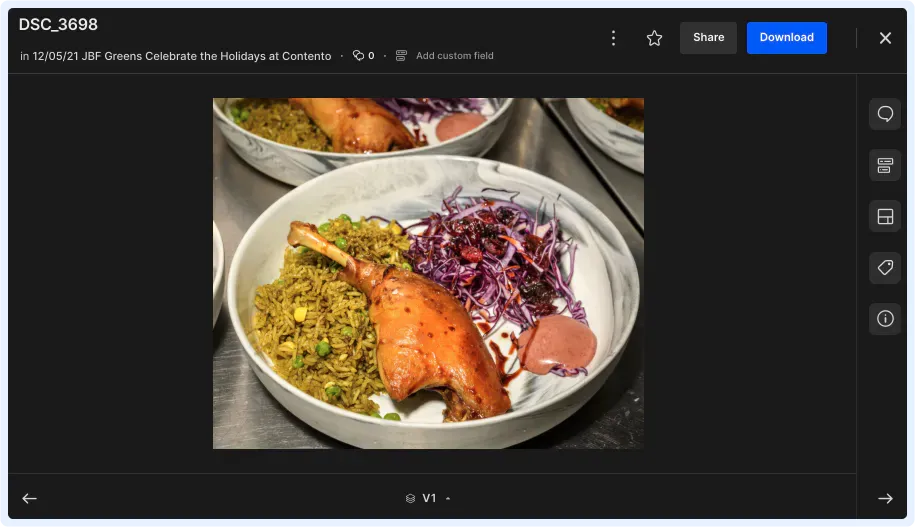 Democratized access and unfettered growth
The JBF Media team includes 5 of the Foundation's 44 full-time employees — the other 39 still need access to the content library on a daily basis. Achieving that was a pain before, but it's not now they're on Air. Says Maggie,
You don't have to be very tech-savvy. We have people who've been working here for decades and people who just started last week. With Air, they all instantly know what they're looking at, can navigate easily, and can trust that the links they create will work, that they can just share it out.
Now all the content of the past three decades — and the next three decades — is and will always be a single search away.
It used to be, if we needed a seafood photo, for example, I'd have to go back, look through folders to find something, whereas now I can just search 'lobster,' and it'll come up immediately. As we continue to grow and continue to do more content, gain more photos and more videos, we have something that's reliable, easy to use, cutting edge, and forward thinking.