A restaurant discovery and recommendation platform
The Infatuation has a simple mission: "to bring you the most honest and trustworthy opinions on where to eat around the world." Originally founded in New York City circa 2009, the company now focuses on 12 cities, including Atlanta, London, New York, and Seattle. They also have a further 39 global travel guides ... and many, many more one-offs and partnership pieces. This all adds up to terabytes of content featuring beautifully prepared food, bright cocktails, and stunning interiors. To support this restaurant content creation empire, The Infatuation employs at least 60 people at any given moment. Nick Bilardello, their VP of Marketing, says that aside from their over 40-strong full-time staff, they're always working with at least 20 freelance photographers, videographers, and producers. These team members are distributed across the world, mostly in their focused cities within the United States.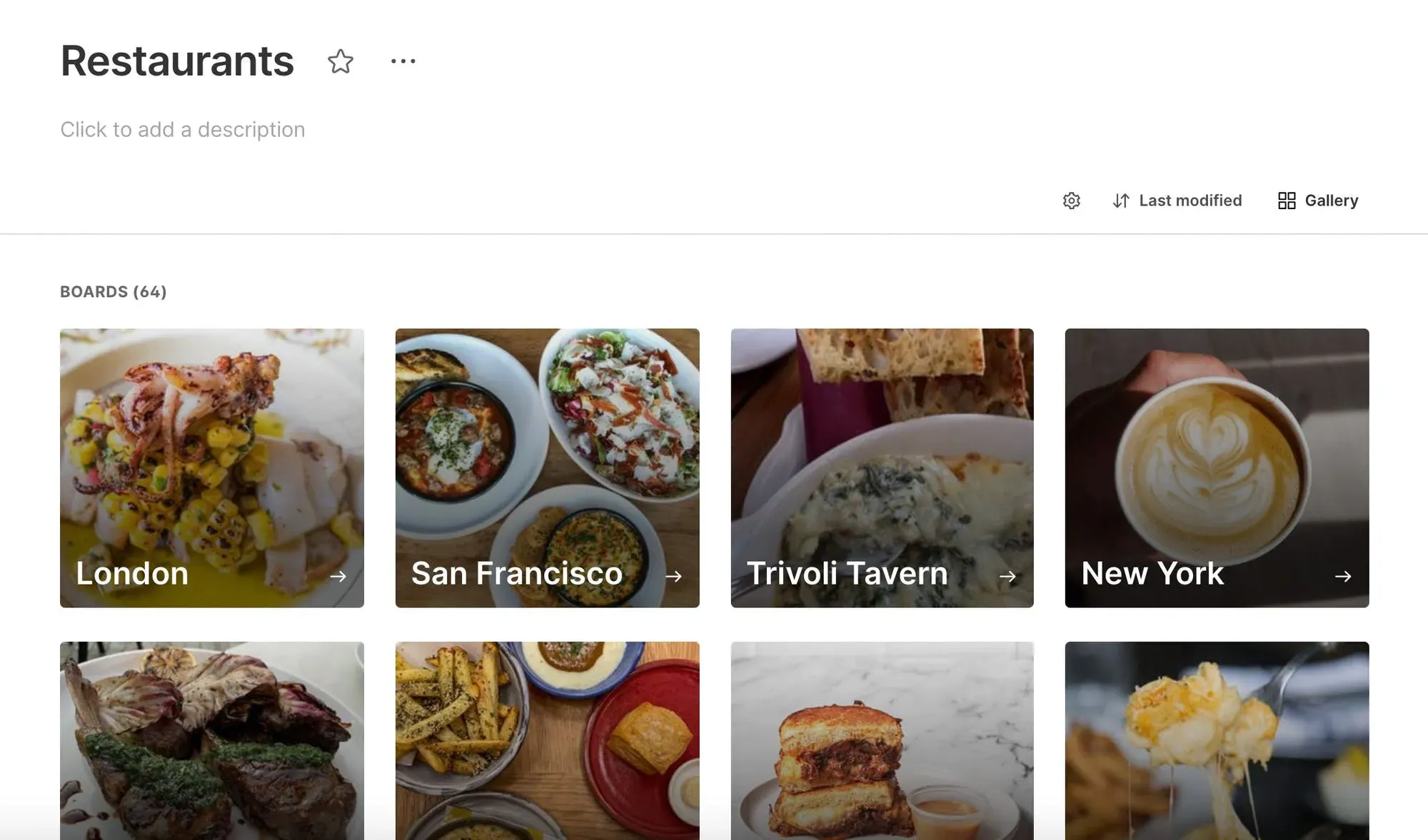 The Infatuation's Restaurants board, in Air.
A wildly overgrown Dropbox
With such a widespread and constantly-changing team of staffers and freelancers, it was difficult for The Infatuation to keep all their assets organized, especially as the company went through a period of rapid growth. Nick came on as the Creative Director 4 years ago, stepping up to his current VP position in 2021. When he joined, the staff numbered only 12, and everyone stored everything in one sprawling Dropbox. As an example of how messy that Dropbox was, Nick describes a folder called "4000 pixels." This folder was basically a no-rules parking lot holding about 85 GB of photographs. Files had useless names like "IMG10872.jpg," and absolutely nobody had any idea what the folder contained. It was like the downloads folder on someone's personal laptop, a messy box full of years of disparate files.
The huge challenge for me was the fact that Dropbox is a file management system and not an image management system.
It wasn't always a nightmare — the Infatuation team did have organizational standards, it's just that the massive scale of their content creation was by its very nature impossible to organize in Dropbox. They had one folder for restaurant content, organized into subfolders for each city. Team members and freelancers were creating new subfolders for different restaurants every single day. It was as if they'd bought a couple of bookshelves when they launched, and then, over the next few years, tried to add the entire contents of the New York Public Library to those two shelves.
How Air made managing freelance photographers easier
Nick says that the way his editorial staff functions is by asking questions like "What city? What restaurant? What neighborhood?" The way he functions as the Creative Director is to ask questions like "I need something that looks like this, or is this color, or is this type of cuisine." When he's looking for an asset, he's looking for very specific visual content. Dropbox didn't allow him to quickly search this way — his only hope was if relevant files were named for that specific content. Otherwise he'd have to spend hours manually sifting through files, scanning thumbnails.
A specific restaurant board in Air, labeled with the restaurant's and photographer's names. Every time they brought in a freelancer, they'd give him a Google Doc with specific instructions on in-house naming conventions. The photographer would tend to say something like, "You're asking me for 400 photos, I'm not going to manually name each file with the restaurant and the type of dish. You can do that on your end."
It's only going to get more and more important for media businesses to have a clear path towards an individual asset. A platform like Air, that puts visual assets first, allows us to be smarter with our time.
With Air, they don't have to make that ask. They're able to preemptively create boards with thorough organization, automatic tagging, and naming conventions. They simply send that board to the photographer and tell them "just upload everything here." All the photos instantly and automatically receive the necessary tags. Also, the search function looks beyond just filenames. Previously, he was at the mercy of the idiosyncratic naming conventions of The Infatuation's vast network of freelancers.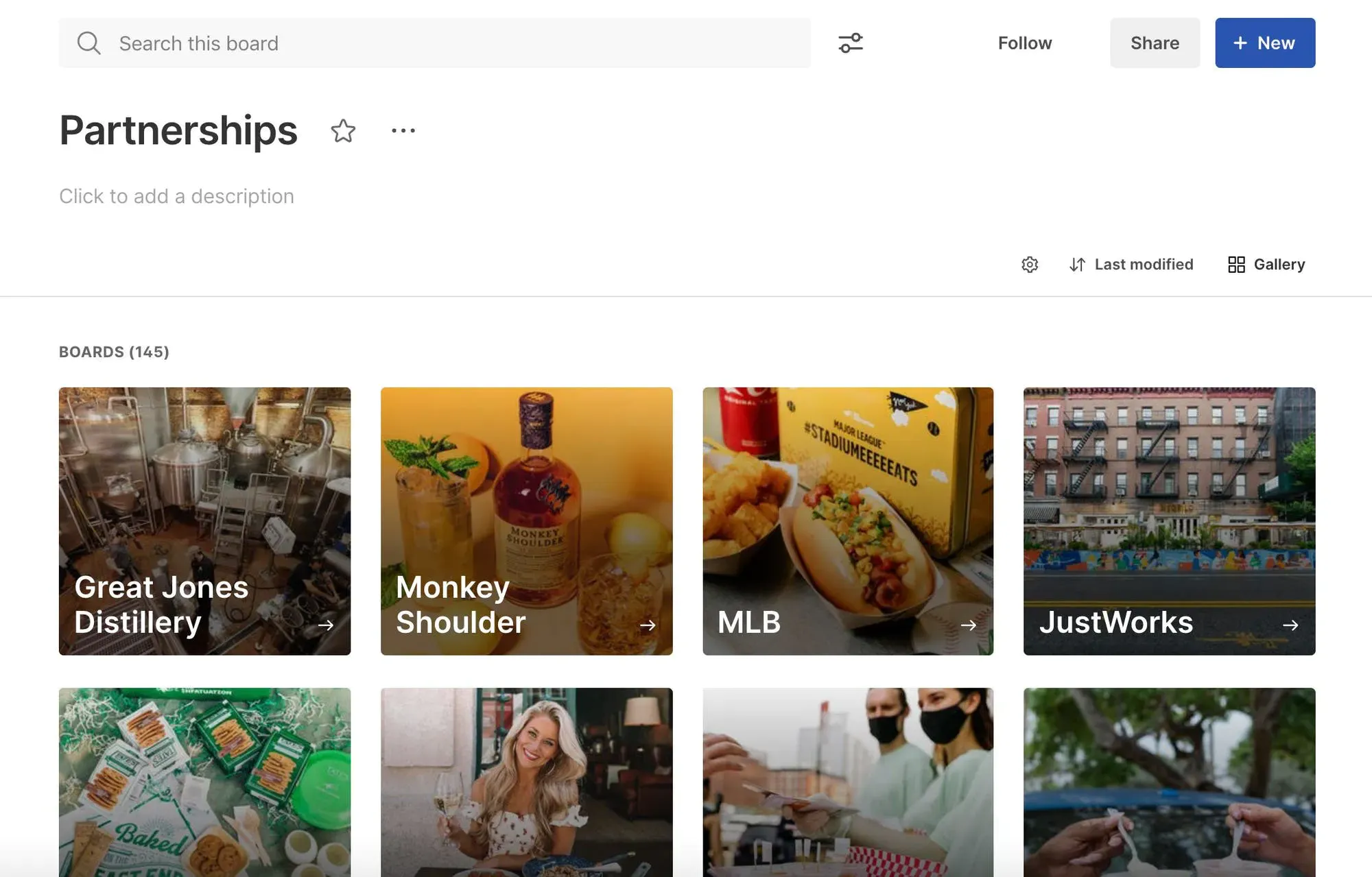 The Infatuation's home for partnership content, in Air. Since Air automatically scans all assets upon upload for color and image content, a huge portion of the up-front tagging work is built in. This means The Infatuation saves time on both ends — organizing content to begin with and finding that content later on. They're able to upload a photograph of a burger and fries and automatically generate those tags: burger, fries, food, plate.
An incredible new workflow for visual concept creation
The Infatuation didn't only need a visually-focused storage system for storage's sake. They needed a way to accelerate their content creation process. Nick described how a recent creative production hire, Elizabeth Gonzelez, immediately took to Air:
One of the first things we did was to have her explore Air for 48 hours, just to get situated. Within 4 hours, she'd already figured out how to use the platform to create content. She'd already built an amazing TikTok video. Basically, you take somebody who's creative and can come up with content concepts based on a visual thread, you give them a tool that allows them to discover content connected to that visual thread, and it immediately opens all these doors."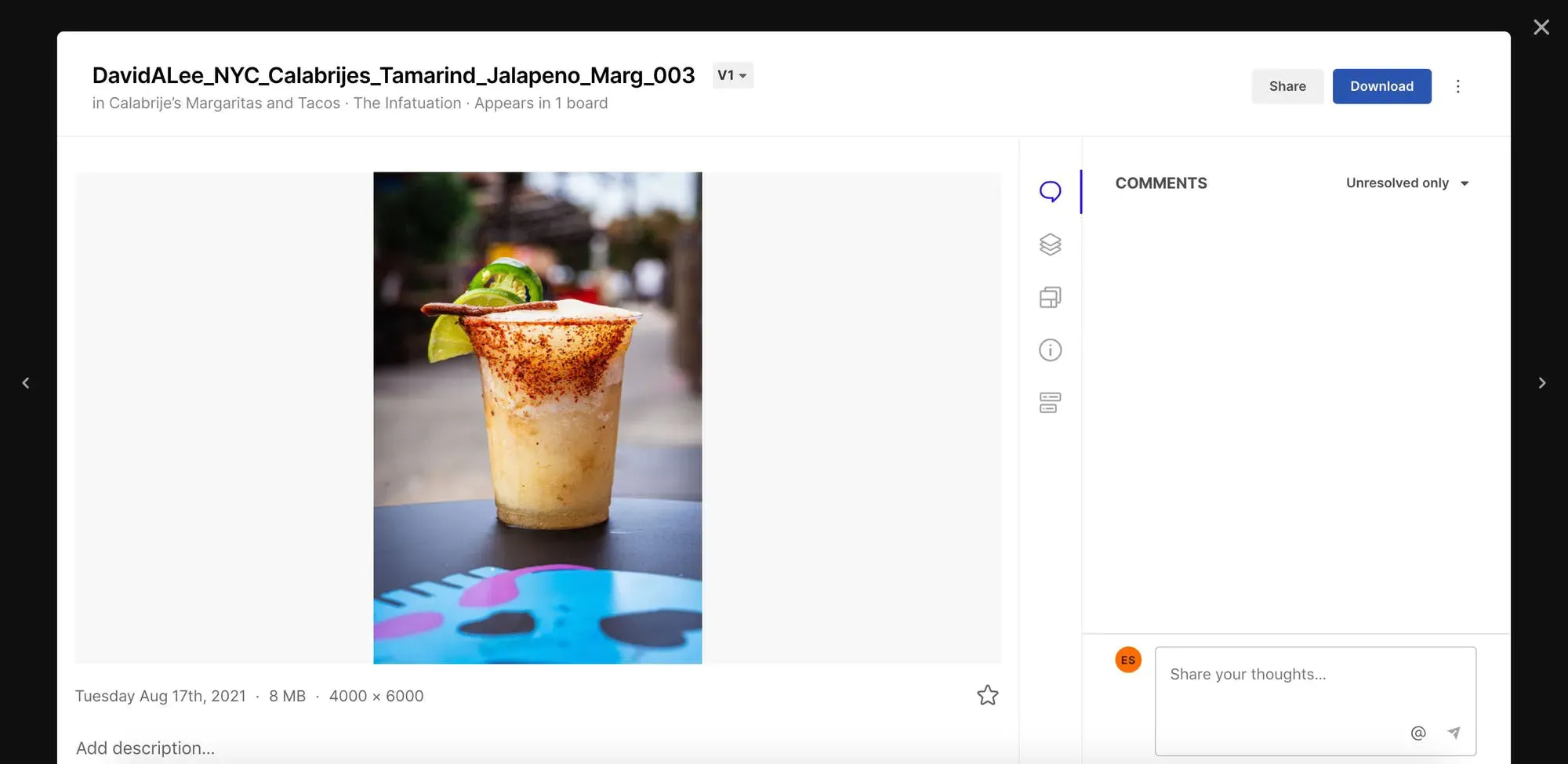 A specific photograph seen in asset view, showing off The Infatuation's naming conventions. 20 years ago, Nick was "making selects on contact sheets with a grease pencil." Today, Elizabeth was able to find individual videos and tie them into a new piece of content, ready for publishing, in mere moments. Times have changed. Content creation tools are constantly becoming more accessible, which means content creation is scaling rapidly. As time goes on, The Infatuation, like any other media company, will only have more and more content to manage. It simply doesn't stop. With a whopping 364,695 assets at the time of writing and thousands more in the pipeline before the end of this year alone, Nick says The Infatuation is committed to Air for the long run:
A platform like Air that puts visual assets first as opposed to traditional archival file management, for a person like me who thinks image-first, it allows us to be more creative, more effective, more efficient with the way we create content, and more powerful in the way we publish and distribute content. By starting with the visual first and not thinking of assets as just assets, instead thinking of them as building blocks, we arrive at a better finished product. Air opens up the range for what we can do and how we think about content creation.