An agency delivering conversion-driving creative at speed
brand.co (formerly Media Wire Marketing) is an agency with an alluring pitch — they don't get paid until their work brings in new revenue for their clients. They're a performance marketing agency, emphasis on performance. Given that they need to rapidly produce and iterate on creative or they quite literally do not get paid, it's extremely important for them to leverage tools that both extend their abilities as a team while saving them as much time — and operational cost — as possible. We sat down with Amanda Harrington, Sr. Marketing Director at brand.co, to discuss how Air has made their creative operations more efficient and effective.
Fed up with the limitations of Google Drive
brand.co's bottom line is dependent on their ability to produce excellent and effective visual assets at speed. Amanda says their previous toolset placed certain handicaps on their efficiencies:
"When I first joined the company, our asset management system was chaotic. We'd done our best to set up systems and structures, but because we were using Google Drive, there were so many inherent limitations and obstacles. In Google Drive, nobody operates in the same organization system. It's not built for that. You can try to enforce a system with shared folders, but it inevitably becomes fragmented. You can't preview anything, you had to click to open everything in another tab or download each asset, and there were many duplicates."
Searching for an asset management system to replace Google Drive and increase brand.co's creative operations efficiency, Amanda investigated the digital asset management (DAM) landscape, particularly Brandfolder:
"When looking at Air, I had a few demos with Brandfolder. They were wildly expensive. As an agency, we weren't looking for the more internal-focused use case they offered — we needed something that would work with our clients. If our clients don't use the tool, we're taking an unnecessary financial loss. When I told Brandfolder's team we weren't going to move forward with them because we found Air, they seemed pretty shocked. They may be a great solution, but Air offered a similar suite of services, at a no-brainer price.
Agency client onboarding made easy through Air
An agency like brand.co succeeds based on its ability to deliver excellent work for clients while maintaining a high level of operational efficiency. For brand.co's creative production work, that means taking in existing client assets, generating new assets internally, sharing them back out for feedback, and finally delivering them to people and platforms for distribution. Adopting Air enabled brand.co to increase operational efficiency at every step of their creative production workflow. Says Amanda, "The biggest thing for me was ease-of-use. In two clicks we could take a Google Drive or Dropbox folder and automatically import all of those assets with the same file hierarchy and structure. Being able to bring client assets into a beautiful, easy-to-use interface helps us produce better work, faster."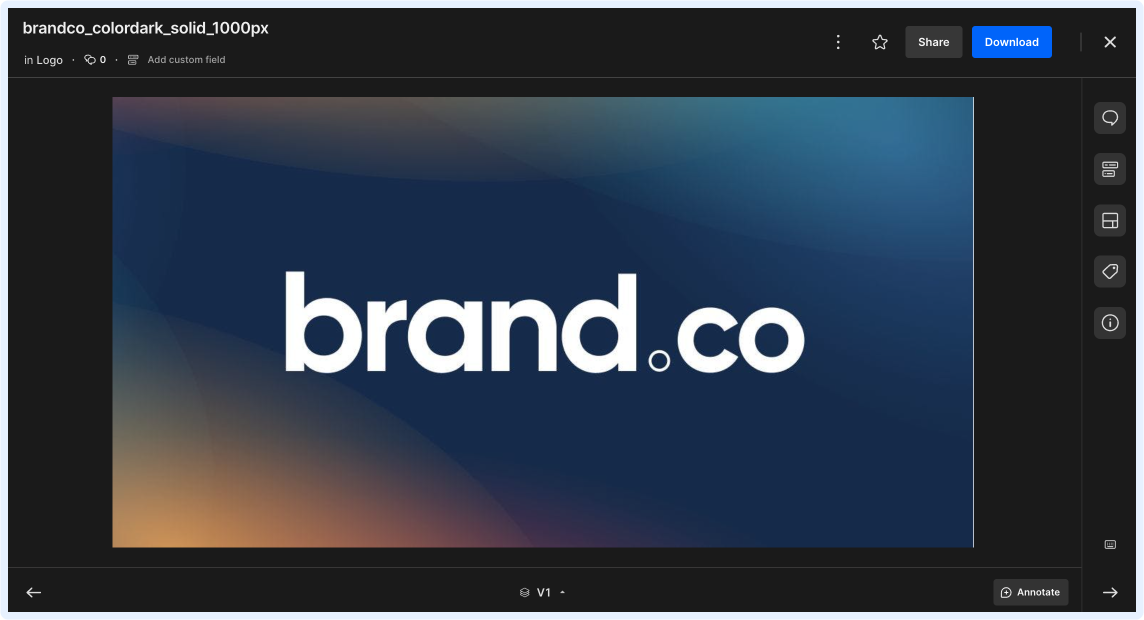 Air has changed the way brand.co onboards clients, creating new opportunities for scale: "Air allows us to just ask for the highest level link a client can give us, since import is so easy. We've created a structure in Air that we just duplicate for each client — onboarding is so much easier."
Less time spent on information transfer speeds up production
After onboarding, in the actual creative production process, Air created yet more efficiencies for brand.co. Client assets and brand guidelines are viewable (and downloadable if necessary) for the creative team in Air; as the team generates new assets, they're uploaded to Air. Account managers create share links for these boards and simply send the link over to the clients, who can leave feedback right on the asset, without having to download it.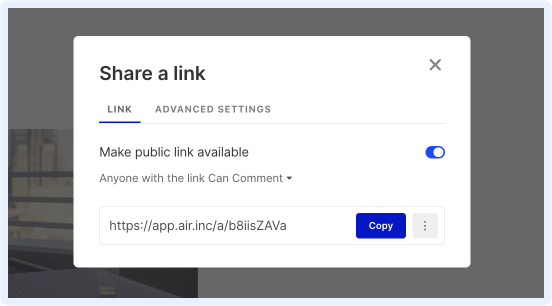 Says Amanda, "It's made how we work with clients so much more efficient. Everyone on our team uses Air weekly, if not daily. When we make ads for a client, they go into Air for approval and comments, iterations are uploaded to Air, and the assets are finally delivered to the client through Air." Much of the work at an agency, specifically for client-facing workers, is typically spent on information transfer. An account manager might spend most of a day relaying feedback back and forth between a client and a creative team, with miscommunication inevitably happening along the way. Says Amanda, "Now clients can just leave feedback directly in Air. Edit requests are coming straight from the client to the person who will apply those edits, without delay. In the past, an account manager might be too busy to relay feedback right away; now our creatives are unblocked instantly."
Air creates efficiencies that boost the bottom line
A reminder: brand.co does not get paid until their work brings in real, new revenue for their clients. It is of vital importance that any tool they use ultimately gives their team more time to pursue that goal and in turn increase their own bottom line. And that's what Air does, in Amanda's own words:
"Air creates efficiencies that translate to dollars. People are now only spending time on what matters most in the company versus mundane tasks. Now, instead of getting trapped in information transfer, the team can focus on and has the time to make the company as lean and profitable as it can be. We've taken over 50% of our time back when it comes to managing and sharing assets. It was very frustrating before; now it's so simple."