A powerhouse on the court and on social media
@DukeMBB was the first university athletics team to break one million followers on Instagram, turning its basketball program into a social media powerhouse that grosses over $45 million in brand value each year. Today, they have 1.2m followers on Instagram and an incredible 2.1m followers on Twitter. As a result, Duke Men's Basketball reaches a larger audience than almost all other sports media outlets — let alone other college sports teams.

Source Duke uses creative content as a way to connect with fans, a medium to support players, and as a tool to recruit the next best athletes. It's a big reason why the Blue Devils continue to recruit top talent year after year, and they're only just getting started. For the past two years, they've run their entire content strategy through Air.
A small-but-mighty content team
David Bradley is the savvy Creative Director at the center of Duke's social media success. He's been working with the team for nearly two decades, starting when he was a student at the university. Though he's played a few different roles since becoming the Creative Director in 2018, his tenure with the team has always been about storytelling. Whether building campaigns centered on the players for social media today, or producing the team magazine back in the mid 2000s, David has long held a deep understanding of what resonates with his audience.

Source Today, Duke has at least 8 people producing content for the team at any given time, a mix of full-time staff, students, and freelancers. These include photographers, graphic designers, social media managers, and video editors. David's content team is always hard at work, even in the off-season when other sports brands tend to be quiet on social media. This is one of the reasons they're so successful — they appreciate that the fans' demand for content never stops. Another reason David focuses so intently on social media is player recruitment. By building a strong brand on social media, they create a club that recruits are excited to join — David says that most recruits specifically mention they're excited to "join The Brotherhood." The "Brotherhood" concept is something he and his team created through social media.
Organizing a huge content roster in Air
The college basketball season generally runs from early fall through early spring, culminating in March Madness, or the NCAA Men's Division 1 Basketball Tournament. During that time, David and his team are nose-to-the-grindstone, creating and publishing content. Every single photo and video they create, no matter if it's headed for Instagram, Twitter, or even physical media, lives in Air. At the time of writing, Duke MBB stores 100,295 images and videos in their Air workspace (and counting). The workspace is essentially broken down into three sections: evergreen brand elements; archive; and seasons (2021-22, for example). Each season board is then broken down into as many as two dozen sub-boards. Depending on the season, there might be a sub-board just for .gifs; one for recruiting videos; one for player portraits. Each of those sub-boards, of course, might contain many more sub-boards, broken down into specific games, or content created for a specific social media channel.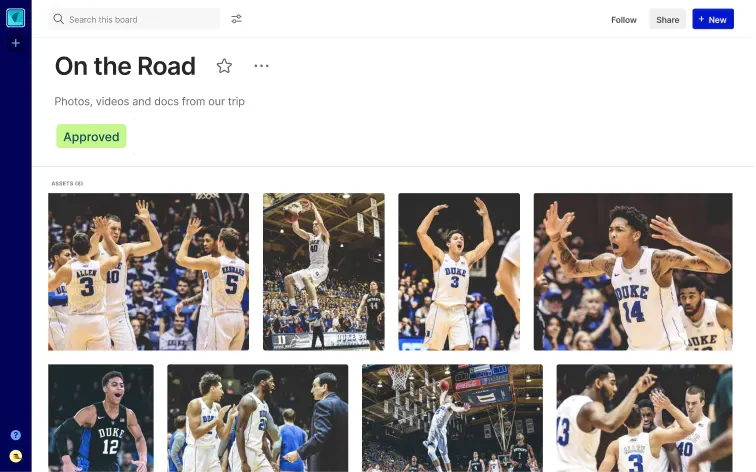 Duke content in an Air workspace. David Bradley and his team are savvy, experienced storytellers. They understand what the fans want from them — and from the players — and that guides their content strategy. That's how they hit 1.2m followers on Instagram. That's how their Instagram posts routinely hit 50k likes. Air enables David and his team to share and deploy their content rapidly, from wherever they are. It enables team photographers and videographers to upload new content, as soon as it's made, no matter what city they're in on the road with the players. Air gives David and his team the ability to build a deep archive of past content, from previous seasons, and search it instantly for specific pieces when building new content — like a compilation of a player's best moments from previous seasons, or a quick video showing how a certain player progresses over his time as part of the team.