An insurance company with a strong brand
Lemonade makes a bold claim: forget everything you know about insurance. The insurance industry has consistently produced iconic brands — Lemonade is no exception. They're "insurance built for the 21st century," offering a range of services: renter's, homeowner's, car, pet, and term life. To keep their brand consistent across the four countries they operate in, Lemonade, founded in 2015, utilizes an internal creative agency model. We spoke with Devin Croda, their Design Director, about what goes on behind the scenes.
Using Box and Google Drive meant wasted time
Before Air, Lemonade's creative-marketing team was using a combination of Box and Google Drive to manage their visual assets. Both platforms were time sinks, causing Devin and his team frustration on the hunt for specific assets, frequently finding themselves in dead ends.
The issue I had with Box and Drive was their browsability. It's never clear where in your library you are. In Box, the previews are terrible. You make it all the way down a folder waterfall, click into an asset, find it wasn't what you needed, and have to go all the way back out. Air saves us time because we're not spending time hunting for things anymore. We're presented with the work much faster. We also don't have to download a .PSD, open it, and realize it's the wrong file. Air's previews and browsability make our jobs so much easier and faster.
Experiencing superior browsability in Air
While many teams using Air lean heavily on the platform's precise searchability, Devin describes Lemonade's creative workflow as being more centered on browsability.
With search, you have to know exactly what you're looking for. With a browsing-based workflow, it's more about: 'Let me see what we've made and what we have in the archive, and maybe we can iterate on that to create something new.' That's not really an option in most cloud-based storage systems, but it is in Air. It allows us to to find inspiration in work we've already done, better equipping us for new design challenges.
After onboarding with Air, the Lemonade team actually worked with the Air team to create a new feature: the nested items bar. The way this works is, whatever board you're in, you know at-a-glance how many assets, sub-boards, and total gigabytes that board holds. It's essentially x-ray vision for your Air library.

How Lemonade uses Air across the organization
Devin works with a team of eight, a hybrid creative-marketing team, on top-level marketing across the company — performance media, content, etc. This team acts as an internal agency, and they treat each of their insurance verticals like different companies. Lemonade's Air workspace as set up as such, allowing them to track and manage different campaigns across each company with clarity. The way Devin's team organizes their workspace is with fairly traditional waterfall structure: - A high level Marketing board, which contains: - A board for each year, each of which contains: - A board for each country Lemonade operates in, each of which contains: - A board for each insurance service offered within that country, each of which contains: - A board for each campaign conducted in that service, in that country, in that year. Lemonade's Growth, or media team, uses Air frequently but not deeply. Share links allow the Creative team to give the growth team to access all the assets the need, whenever they need them, without getting confused about which assets are still being iterated on.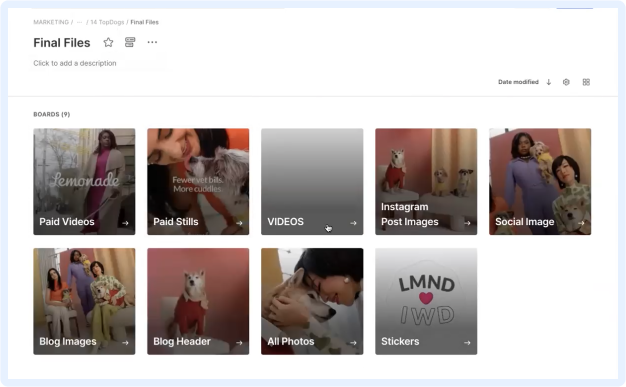 From a specific campaign in Lemonade's Pet vertical, a final board they share-linked for the Growth team. For maximum clarity, the Creative team breaks down final-file boards into specific boards for different functions on the Growth team. This is to avoid, for example, the person who manages the blog using an asset meant for paid social. Share links to specific final boards are sent to their intended user, ensuring clarity while also avoiding the need to pay for extra seats. Only Growth leadership sees the top-level Final Files board. It's not just the Growth team who needs access to assets. Lemonade's brand leans heavily on illustration — Devin's team created an Illustration Bank board for universal sharing across the organization.
When, for example, the Insurance team is doing presentations to regulators, or when the Business Development team is pitching Lemonade, they like to bring the brand into what they do. They're constantly pinging the Creative team to provide them with these assets, and we needed a way to distribute those like an asset toolkit — like you would as a DTC partner for affiliate marketers, when they need to use your photography.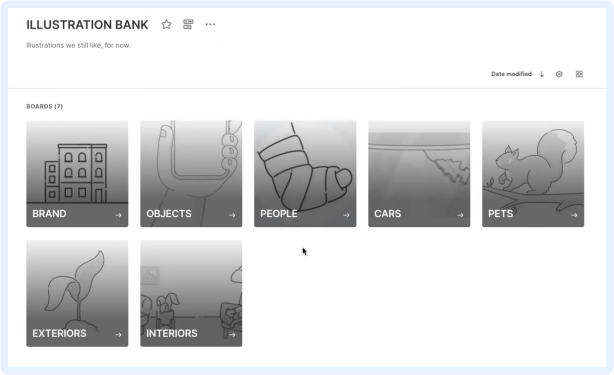 Air is the backbone for Lemonade's Creative team
Devin and his team went with Air for a number of reasons, outlined above. Here's why they've stayed with the platform:
Air is the most flexible platform on the market. That's why we gravitated towards it. For the ability to search for exactly what you need, for how easy it is to browse when you don't know what you need. You can set it up as a dump of assets that you can just cut through with search, or as a waterfall structure. No matter how you set it up, it allows anyone on your team to use it in whatever way is most comfortable to them.