A boutique marketing agency
Fat Earth is a full-service performance marketing agency with a soft spot for mission-driven brands. They're based in Austin, Texas, though the staff is fully remote. CEO John Gross founded Fat Earth in January 2019 — since then, the company has grown rapidly, currently serving 17 employees and 35 clients. Their creative team makes up half of their staff — 8 people do photography, videography, graphic design, web design, and copywriting. 8 people constantly creating digital content for 35 clients means Fat Earth is, at the time of writing, juggling over 20,000 assets. That huge asset library needs to be well-organized and instantly searchable.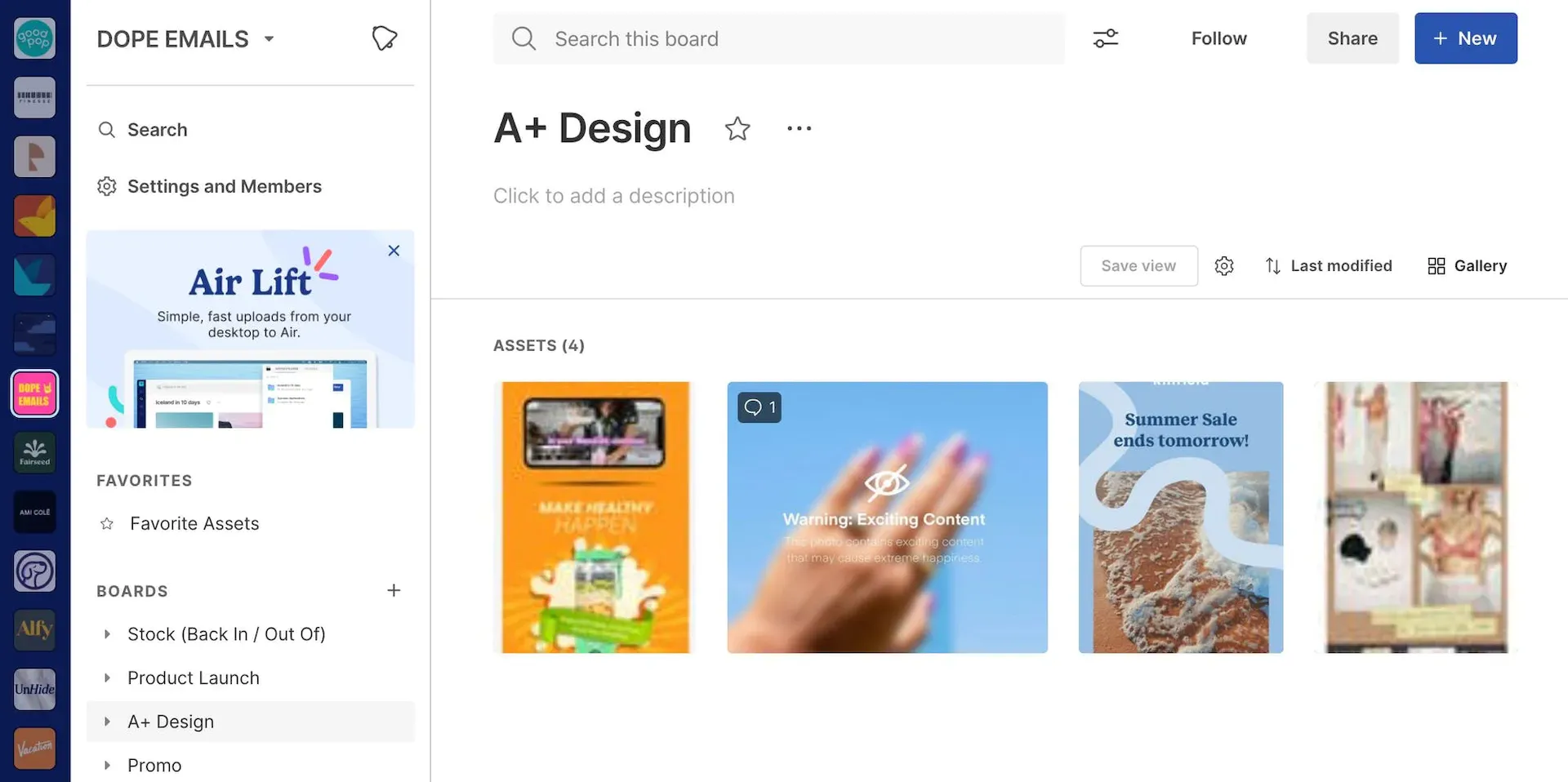 An example of a board Fat Earth uses in sales calls. Before they adopted Air, it was very tedious for the people on Fat Earth's marketing team — the other half of their staff — to find the assets they needed to do their job. They had issues with both access and organization. Once Air entered the picture, every member of the team became empowered to find exactly what they were looking for, at any given moment.
Getting lost in Dropbox
During their first year in business, Fat Earth worked mostly in Dropbox and Google Drive, and nobody on the team was very happy about it. With Drive, they were constantly having access issues, both internally and externally. In Dropbox, they had no way to centralize the many creative assets they're constantly working on. Whenever they onboarded a new account, they had to go through the tedious process of requesting access to specific creative folders on the client-side Dropbox. Navigation was always confusing — John says that even after five years using the platform, he never knew where to click; he was never able to find what he needed quickly.
Without tools that allow you to iterate, operate, and manage your creative assets, it's difficult to compete. Creative is king.
Some of their clients actually did create passable organizational systems within Dropbox, but even then, the interface didn't lend itself to quick navigation. Members of the marketing team frequently found themselves clicking on folders they thought held the files they needed but were in fact completely empty. Fat Earth discovered and quickly started using Air in early 2020. One of their clients, who had recently begun using the platform, brought the Fat Earth team into their Air workspace and, John says, "everything just clicked."
Fat Earth's four non-negotiables
The Fat Earth team needed four specific features from a digital asset management solution; four items they missed in Dropbox and Google Drive but found in Air:
Easy and intuitive visual navigation
Once central hub for all their work, across all 35 of their accounts
Easy, reliable access to assets for both internal and external stakeholders
The ability to quickly compile and present selects in-platform
"If it's not in Air, it doesn't exist."
When John and his team first encountered Air, what instantly sold them was the clean, visually appealing, and intuitive interface. Simply put: John quickly understood exactly where everything he needed lived. In less than a week, John and his Senior Account Manager had set up Air and brought in two of their clients — shortly after that, every one of their clients was fully imported to Air.
See in the left sidebar how Fat Earth created a different workspace for each client. What John most urgently needed and instantly gained from Air was twofold: clean, scalable organization, and stakeholder access control. Previously, he was always getting texts or Slack messages from employees asking questions like, "Where are the logos for XYZ client?" Nobody could find anything. As the head of his business, John feels he can rely on Air; he knows that even when he's out of office, his team will be able to independently find any asset they need. As he puts it, "If it's not in Air, it doesn't exist."
We use Air constantly in conjunction with Asana . . . It really helps with our project management systems.
Fat Earth quickly integrated Air with their other workflow tools. In John's words: "We use Air constantly in conjunction with Asana. One of our graphic designers will fill out a brief and they'll ping us on the marketing side. We'll open it — there's all the images, and then we can just comment really quickly on everything. So it really helps with our project management systems." They never have to transfer anything from Air to another platform; once an asset is uploaded, it's just linked out to other platforms and collaborators as needed, including for client delivery.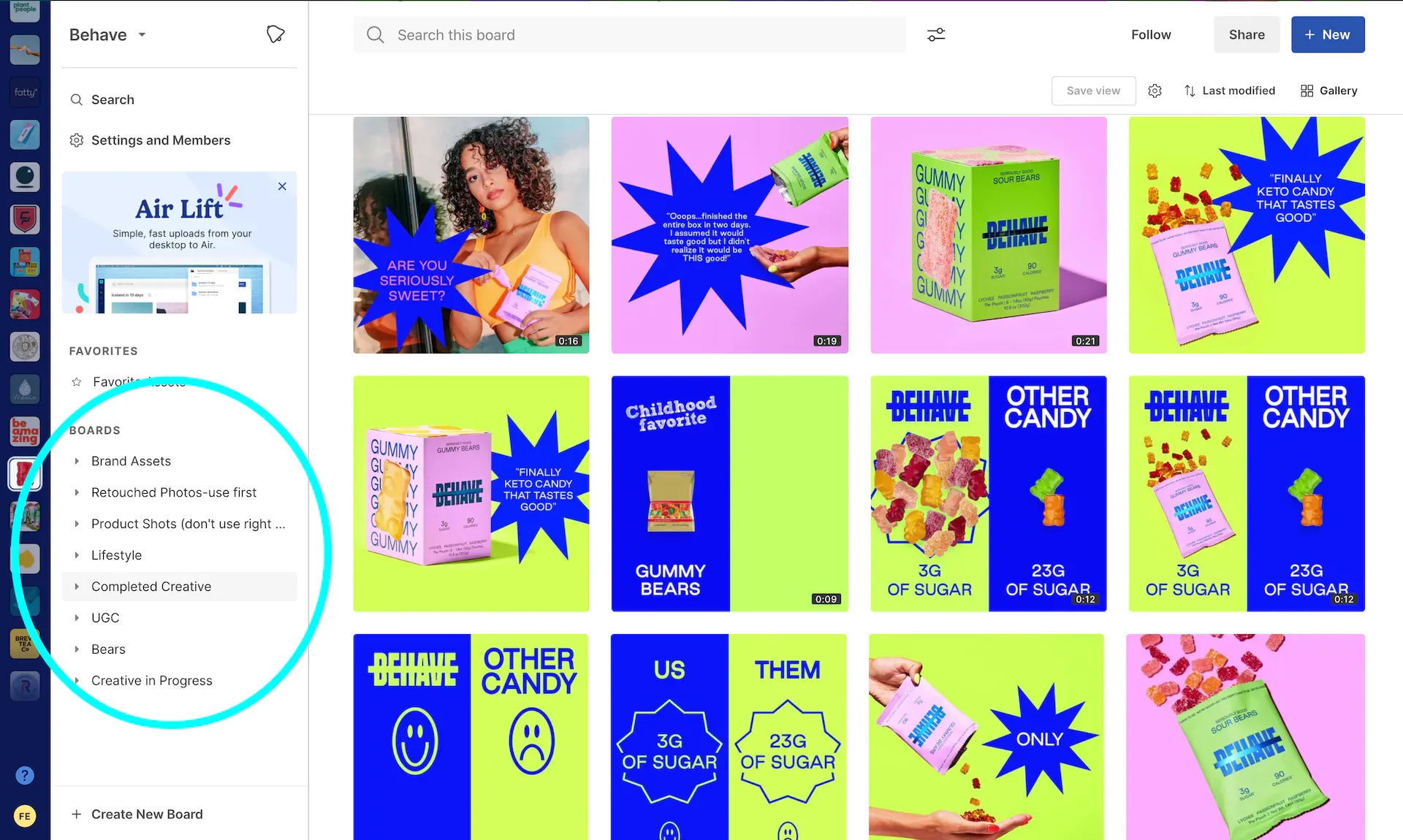 See how Fat Earth creates structure within a client workspace. Fat Earth also uses Air to pitch new clients and projects. Once you upload an asset to Air, you can copy it to as many boards as you like without using any further storage space. So, when he's pitching a new client, John creates a new board, collects any assets he needs for the pitch from across his Air workspaces, and runs a brief screen-share presentation.
After adopting Air
Results
100% internal adoption rate
Saved 4 hours per week locating files
Doubled creative output rate
Cut client feedback time by 50%
Fat Earth takes two approaches in their work: data-driven iteration and creative-driven experimentation. With iterative work, they might create three versions of one ad, with the text tweaked slightly in each version. Using Air's version feature, they can stack all three iterations together within the platform, keeping things fully organized. Fat Earth's entire creative workflow takes place within Air. Their creative process is led by their marketers, who make briefs for the creative team, building on what they've seen success with in the recent past. After receiving a brief, the creative team returns to the marketers with their best ideas. For Fat Earth's creative-driven approach, they might create a dozen crazy ideas for a single project — they store all those experiments in the ideation folder of a given project board.
Air has increased our ability to collaborate and it's increased our ability to stay very well organized.
After transitioning to Air, John's team quickly established best practices and achieved a 100% adoption rate. Soon, they were saving 4 hours a week simply looking for and locating files, compared to their previous Dropbox and Google Drive workflows.. They doubled their creative output and cut client feedback time by 50%.
Another Fat Earth client workspace. When Fat Earth onboards a client, they'll go into the client's Dropbox and import whatever assets they need to do their job into Air. After that, they don't have to return to the client's Dropbox ever again. The client gives permissions, approval, and feedback within Air. Sometimes that means sending share links to specific assets, sometimes it means giving access to an entire board, and sometimes it just means a screen-share workspace walkthrough. Their clients absolutely love having the ability to just go into Air and leave a ton of feedback.
Scrolling through Air in real time just gives people this feeling that what we're working on is very tangible.
Using Air, Fat Earth went from a messy, tedious workflow to a smooth, fully-adopted process built around the platform and its specific benefits. John says he can't overemphasize the pain he experienced looking for assets before he used Air — the platform has made work incredibly easier and more enjoyable for him, his clients, and his entire team.